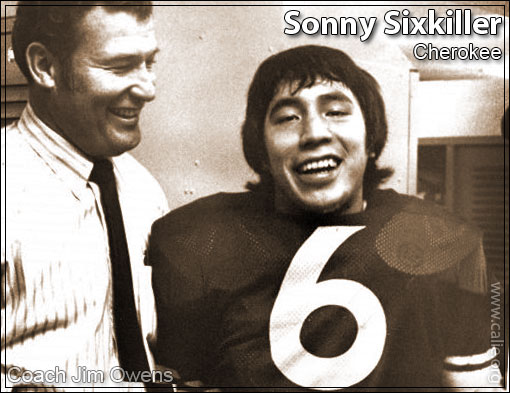 SONNY SIXKILLER
Cherokee Nation
(1951-)
Sonny Sixkiller, an American Indian professional football player, quarterback position, is a Cherokee Nation tribal member. He was born in Tahlequah, Oklahoma on September 6, 1951. His family moved to Ashland, Oregon, when he was about one year old.
HIGH SCHOOL FOOTBALL STAR
Young Sonny attended Ashland High School in Ashland, Oregon, and wanted to play in-state college football for Oregon State, but they didn't offer him a scholarship (it's been said) because of his small size for professional football: 5'11" and 171 lbs.
COLLEGE FOOTBALL STAR
However, Sixkiller did receive a scholarship to the University of Washington in Seattle. As a sophomore in 1970, he became the starting quarterback for the Washington Huskies and led the NCAA in passing. Sonny Sixkiller was a stand-out athlete and held some fifteen school athletic records.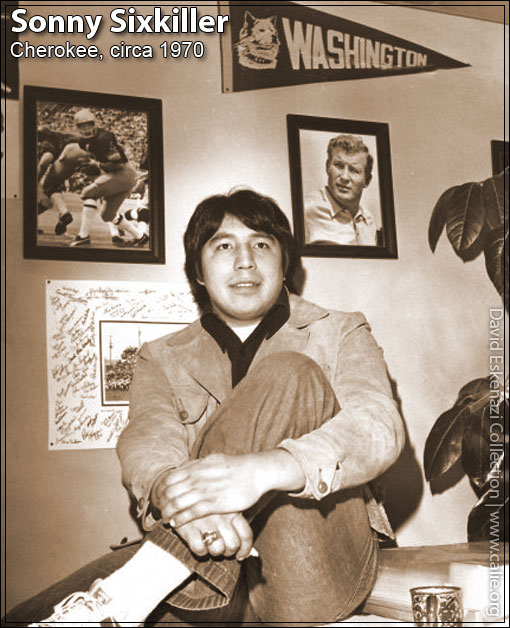 In just 28 games (1970-1972), Sonny Sixkiller became one of the most popular players in Washington University athletic history. (David Eskenazi Collection)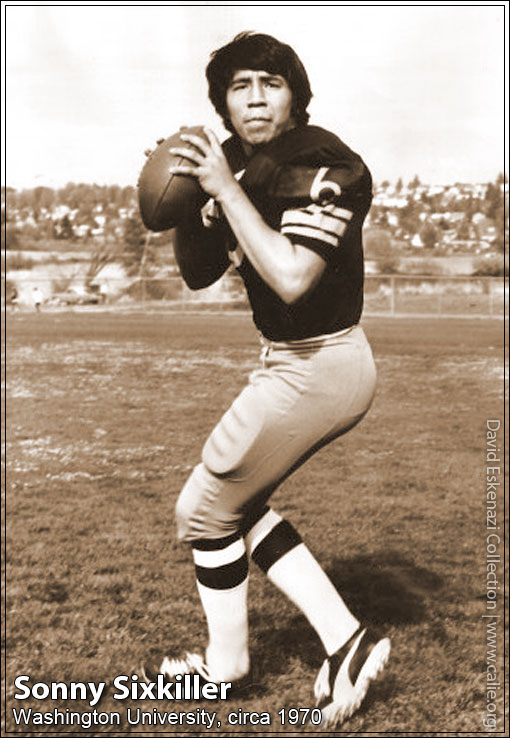 Sonny Sixkiller established passing records at WU that stood for nearly 30 years. (David Eskenazi Collection) Note: Famous athlete pictured wearing Puma football shoes and Washington Huskies football uniform, circa 1970.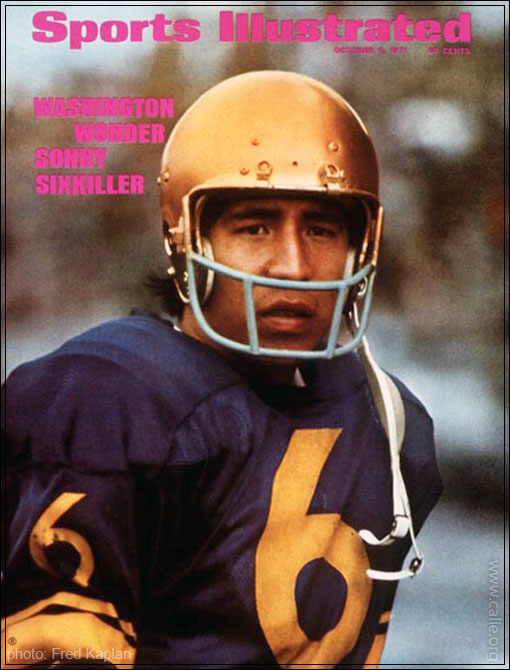 QUARTERBACK SIXKILLER wearing famous #6 purple football jersy and gold helmet photographed on the cover of "Sports Illustrated" magazine as the "Washington Wonder," October 1971. (photo Frank Kaplan)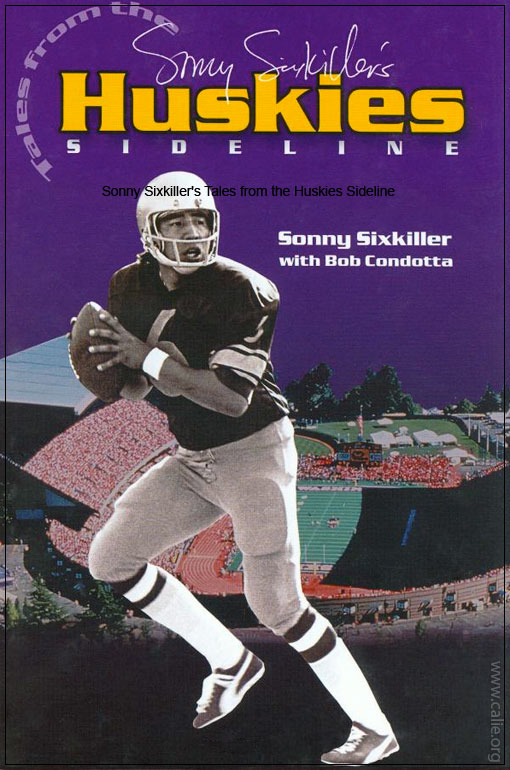 PROFESSIONAL FOOTBALL
Sixkiller signed with the Philadelphia Bell (World Football League) in 1974. He signed with The Hawaiians in 1975 and played for them until the league folded. He participated in try outs with the San Diego Chargers in 1976.
AMERICAN INDIAN MOVIE STAR
Sonny Sixkiller starred opposite of the famous actor Burt Reynolds in "The Longest Yard," a 1974 sports-drama comedy movie about prison inmates who played football against their prison guards.
WATCH SONNY SIXKILLER MOVIE youtube.com.
RESEARCH SONNY SIXKILLER:
+++++
WHO PRODUCED THIS BLOG?


Ernie C. Salgado Jr.
Tribal: Luiseño
Reservation: Soboba Indian Reservation
EDITOR: The Indian Reporter www.theindianreporter.com
Founder/CEO CALIE: www.californiaindianeducation.org
Web Site: www.apapas.com
CONTACT
RESUME/BIOGRAPHY
PUBLISHED ARTICLES
Page last worked on January 6, 2012.
A professional CALIE presentation by GARY G. BALLARD.