Publishing Corner:
ROY COOK NEWS BLOG
THE INDIAN REPORTER
TRIBAL BLOGGERS
Indian Community:
TRIBAL COMMUNITY
PROFILES
OBITUARIES
Science & Wonder
ASTRONOMY PORTAL
KID'S CLUBHOUSE
Indian Heros:
VETERAN COMMUNITY
MEDALS OF HONOR
CODE TALKERS
FAMOUS CHIEFS
HISTORIC BATTLES
POEMS ESSAYS
SPORTS-ATHLETES
MISSION FEDERATION
FAMOUS INDIANS
California Indian Art:
MISSION BASKETS
RED CLAY POTTERY
ETHNOGRAPHIC ART
CAVE ART
MUSIC
CALIE Library:
FEDERAL Resources
HEALTH & MEDICAL
INDIAN BOOK LIST
HISTORICAL Documents
Academic Financial Aid:
SCHOLARSHIPS
GRANTS & FUNDING
Tribal Governments:
TRIBAL COURTS
SOVEREIGNTY
SOCIAL SERVICES
TRIBAL DIRECTORY
Indian Gaming:
INDIAN CASINO FORUM
ROD CURL
Wintu Tribe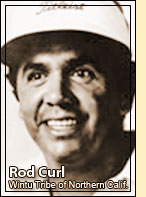 Born in Redding, California, 1943, Rodney D. Curl is famous in Indian Country for being the first full-blooded Native American Indian golfer to win an official PGA Tour event.
Rod Curl is of the Wintu Tribe of Northern California (a non federally-recognized tribe). His Wintu Indian name is "Yoso" (Johnny comes from behind).
Young Rodney was a standout high school athlete at Central Valley High School (Shasta County), and was pursued by San Francisco Giants baseball team scouts as their left-handed pitching prospect.

Mr. Curl joined the PGA Tour in 1969 and played professionally through 1978. PGA.COM has Rod Curl listed as having won one first-place PGA Tour event, including three second place, three third place and forty six top-ten finishes.
In the 1974 Colonial National Invitation — Rod's only PGA Tour win — he outplayed golfing legend Jack Nicklaus to take the 1974 Colonial National Invitation title by one stroke after Nicklaus bogied the 17th hole under the pressure.
INDUCTION PHOTO HERE
Rod Curl, Sr. was inducted into the Shasta County Sports Hall of Fame in #.

Rod has two sons who are also professional golfers: Rod Curl, Jr., and Jeff Curl. Jeff Curl played in the 2012 U.S. Open and was tied for second place with Tiger Woods while Rodney Curl Jr. played in the Redding Pro-Am the week before.
Curl Family Photo Gallery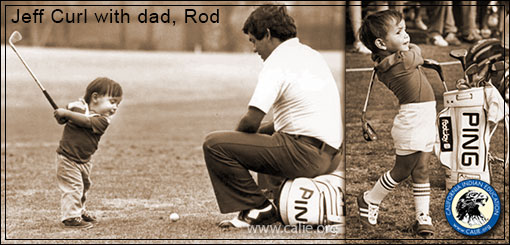 A very young Jeff Curl practices his golf shots with his father, Rod Curl, a professional golfer. Ping golf company made a set of child's clubs for Jeff Curl. Little could they know for sure then that Jeff Curl was to follow in his father's steps and become a top golfer.
Senior Curl's name was submitted to CALIE editors for inclusion into CALIE.ORG's Famous Native American Athletes by his niece, Kelli Hayward.
Rod Curl Study Resources
WIKIPEDIA: Rod Curl Biography
WIKIPEDIA: Wintu People
ARCHIVE NEWS STORY: July 15, 1974
PGA: Rod Curl Career Profile


PRODUCED by: ERNIE SALGADO JR (Soboba)
RESEARCHED/PRESENTED by: G. BALLARD