Publishing Corner:
ROY COOK NEWS BLOG
THE INDIAN REPORTER
TRIBAL BLOGGERS
Indian Community:
TRIBAL COMMUNITY
PROFILES
OBITUARIES
Science & Wonder
ASTRONOMY PORTAL
KID'S CLUBHOUSE
Indian Heros:
VETERAN COMMUNITY
MEDALS OF HONOR
CODE TALKERS
FAMOUS CHIEFS
HISTORIC BATTLES
POEMS ESSAYS
SPORTS-ATHLETES
MISSION FEDERATION
FAMOUS INDIANS
California Indian Art:
MISSION BASKETS
RED CLAY POTTERY
ETHNOGRAPHIC ART
CAVE ART
MUSIC
CALIE Library:
FEDERAL Resources
HEALTH & MEDICAL
INDIAN BOOK LIST
HISTORICAL Documents
Academic Financial Aid:
SCHOLARSHIPS
GRANTS & FUNDING
Tribal Governments:
TRIBAL COURTS
SOVEREIGNTY
SOCIAL SERVICES
TRIBAL DIRECTORY
Indian Gaming:
INDIAN CASINO FORUM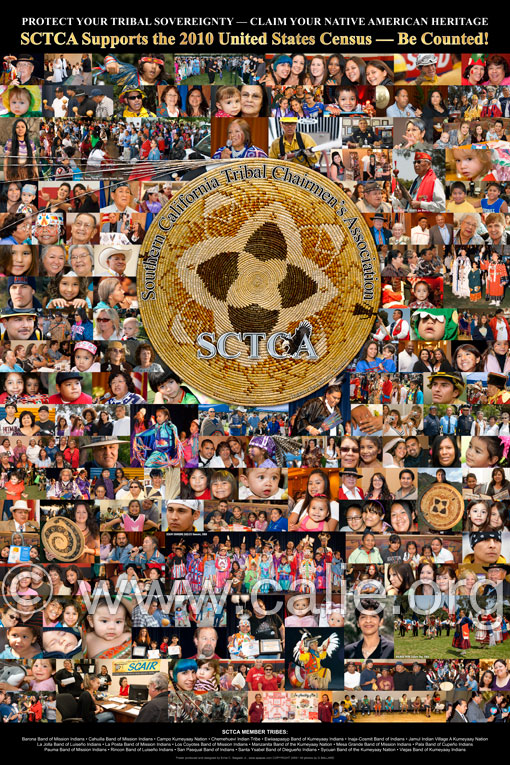 SCTCA Community Poster
"Protect Your Tribal Sovereignty — Claim Your Native American Heritage — SCTCA Supports the 2010 United States Census — Be Counted!"
The Southern California Tribal Chairmen's Association SCTCA encourages all Native American peoples living in Southern California to participate and be counted in the United States Census 2010:


CLICK for our exclusive Census photo blog with official Census information and links, instructions and help with filling out Census forms to be counted as Native Americans — with higher, more accurate numbers come more federal and state dollars for health and social services for Native American urban and reservation communities.
Please see the CALIFORNIA INDIAN EDUCATION Census guide for Native American Indians for more detailed information about the U.S. Census programs and job opportunties.

The Southern California Tribal Chairmen's Association (SCTCA) is a multi-service non-profit corporation established in 1972 for a consortium of 19 federally-recognized Indian tribes in Southern California.
The primary mission of SCTCA is to serve the health, welfare, safety, education, cultural, economic and employment needs of its tribal members and enrolled Indians in the San Diego County urban areas.
A board of directors comprised of tribal chairpersons from each of its member Tribes governs SCTCA.
SCTCA MEMBER TRIBES INCLUDE:
Barona Band of Mission Indian
Cahuilla Band of Mission Indians
Campo Kumeyaay Nation
Chemehuevi Indian Tribe
Ewiiaapaayp Band of Kumeyaay Indians
Inaja-Cosmit Band of Indians
Jamul Indian Village A Kumeyaay Nation
La Jolla Band of Luiseño Indians
La Posta Band of Mission Indians
Los Coyotes Band of Mission Indians
Manzanita Band of the Kumeyaay Nation
Mesa Grande Band of Mission Indians
Pala Band of Cupeño Indians
Pauma Band of Mission Indians
Rincon Band of Luiseño Indians
San Pasqual Band of Indians
Santa Ysabel Band of Diegueño Indians
Sycuan Band of the Kumeyaay Nation
Viejas Band of Kumeyaay Indians
FOR MORE INFORMATION ABOUT THE SAN DIEGO TRIBES including tribal logos, contact information.
Poster information:
PRINT SIZE: 24x36 inches.
MEDIA: Printed CMYK on commercial sheet-fed printing press.
RUN: 1,000 posters printed, limited edition.
AVAILABILITY: Contact SCTCA or SCAIR.
Poster produced and designed by Ernie Salgado Jr.
All photos and digital production by G BALLARD.
Juncus Kumeyaay basket by Eva Salazar.