Publishing Corner:
ROY COOK NEWS BLOG
THE INDIAN REPORTER
TRIBAL BLOGGERS
Indian Community:
TRIBAL COMMUNITY
PROFILES
Science & Wonder
ASTRONOMY PORTAL
KID'S CLUBHOUSE
Indian Heros:
VETERAN COMMUNITY
MEDALS OF HONOR
CODE TALKERS
FAMOUS CHIEFS
HISTORIC BATTLES
POEMS ESSAYS
SPORTS-ATHLETES
MISSION FEDERATION
FAMOUS INDIANS
California Indian Art:
MISSION BASKETS
RED CLAY POTTERY
ETHNOGRAPHIC ART
CAVE ART
MUSIC
CALIE Library:
FEDERAL Resources
HEALTH & MEDICAL
INDIAN BOOK LIST
HISTORICAL Documents
Academic Financial Aid:
SCHOLARSHIPS
GRANTS & FUNDING
Tribal Governments:
TRIBAL COURTS
SOVEREIGNTY
SOCIAL SERVICES
TRIBAL DIRECTORY
Indian Gaming:
INDIAN CASINO FORUM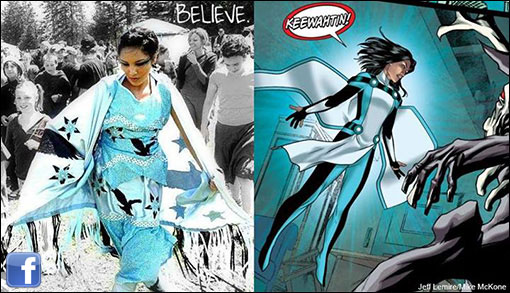 SHANNEN KOOSTACHIN
Attawapiskat First Nation
1994-2010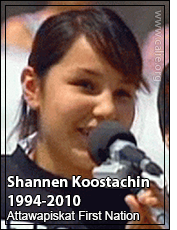 Shannen Koostachin is best remembered as a devoted Native American activist who led a movement for "safe and comfy" schools and quality culturally-based education for First Nations children called the Attawapiskat School Campaign.
At the age of 14, Shannen was nominated for the International Children's Peace Prize in 2009 for her educational activism.
Shannen died in a tragic car accident in 2010 at the age of 15, but her dream is living on in "Shannen's Dream" — a Canadian youth-driven movement advocating equitable educational funding for First Nations children.
BIOGRAPHY: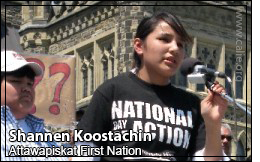 Shannen was born 1994 in Attawapiskat First Nation on James Bay coast Ontario, Canada. She attended J.R Nakogee Elementary School.
After her school was condemned, Shannen quickly realized the Canadian government was providing substandard funding to the First Nation Indian school system.
By 2007, the federal government had backed away from its third commitment to build a new school for the Attawapiskat tribe. In organized protest, Shannen and other students launched effective Youtube and Facebook Students Helping Students campaigns to raise awareness and funds to build a school for Attawapiskat.
DC COMICS: A Mighty Girl Cree
DC Comics' new teenage superhero was inspired by Attawapiskat First Nation education activist Shannen Koostachin.
The DC Comics' new animated hero character is called Equinox, and she is based on a fictitious 16-year-old girl from the Cree Indian community of Moose Factory, Ontario, Canada.
Equinox possesses special super powers connected to the Earth that change with the seasons. The superhero character will appear in a five-issue story in the Justice League Canada comic book series.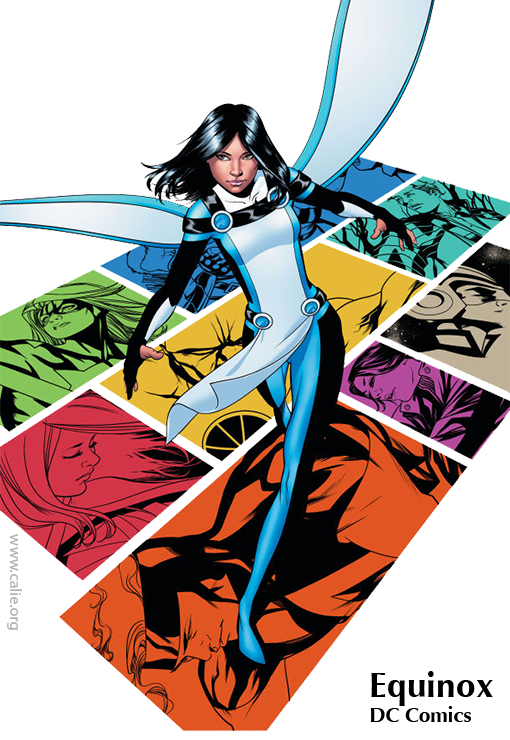 Jeff Lemire, an illustrator and cartoonist from Toronto, told the CBC that Shannen's courageous spirit and real-life story helped inspire the new superhero character.
STUDY RESOURCES:
IGN.COM News Article: New Cree Superhero Equinox Joins DC's Justice League United
JUSTICE LEAGUE CANADA
WIKIPEDIA: Shannen's Dream |
ATTAWAPISKAT FIRST NATION WEBSITE
WATCH TRIBAL YOUTUBE VIDEOS:
Movie trailer for "Shannen and the Dream for a School":
Shannen and Serena Koostachin Nov. 2009:
Shannen Koostachin and Serena Koostachin speaking at the Ontario Federation of Labour Convention Nov. 27, 2009. They were leaders in the Attawapiskat School Campaign. Shannen died on June 1, 2010 at the age of 15. Out of her death, the Shannen's Dream campaign for equal rights for Canadian First Nation children was launched. On February 27, 2011, the Canadian Parliament adopted "Shannen's Dream." The fight for equal school rights continues. www.shannensdream.ca. (youtube.com)
Heartspeak about Shannen's Dream:
This educational documentary short, Heartspeak about Shannen's Dream, tells the story of "Shannen's Dream" and captures the process as we join together to carry on her vision. Shannen Koostachin had a dream -- that all First Nation children should be able to get an education in clean, "comfy" schools just as non-Native children. Shannen was one of the student leaders in the Attawapiskat School Campaign -- a fight to get a grade school built for 400 children attending classes in portables on a contaminated brownfield. In her short life, 'Shannen's Dream' has inspired national interest to carry on the fight. (youtube.com)
Shannen's National Dream Day of Action:
This 15-minute video captures the essence of school/community engagement around Shannen's Dream on the National Day of Action that took place in Ottawa on April 27, 2011. Highlights of the behind-the-scenes preparation and pre-walk school presentation at Lady Evelyn Alternative School include remarks from Shannen's parents, Shannen's Dream youth leaders (Chelsea Edwards and Chris Kataquapik from Attawapiskat), Eric Chen, Student Trustee, OSTA-AECO, Grand Chief Stan Beardy & Deputy Chief Terry Waboose, Nishnawbe Aski Nation (NAN) and MP Charlie Angus, Timmins-James Bay. We also see students from surrounding Ottawa schools marching on Parliament Hill and delivering their letters of support to MP Paul Dewar, Ottawa-Centre. Highlights from the speeches on Parliament Hill are combined with youth singing the song, "Diamonds in the Snow" along with musician/composer/MP Charlie Angus, Timmins-James Bay. Learn more at www.heartspeak.ca (youtube.com)
+++++++
WHO PRODUCED THIS BLOG?


PRODUCED BY: ERNIE SALGADO JR
RESEARCH & PRESENTATION: G. BALLARD