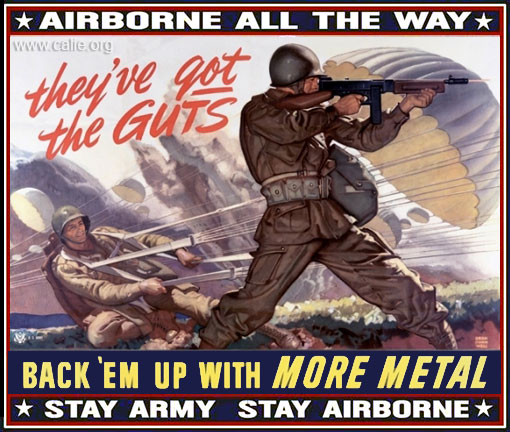 United States Army Airborne soldiers have a long and hard-fought tradition of being an elite body of fighting men and women who have set the bar for determination and courage under fire.
All the Way-Airborne


Edited by SCAIR historian Roy Cook, Opata-Oodham, Mazopiye Wishasha.
D-Day was scheduled for June 5, 1944. But on the eve of the invasion, as the air and sea armada began to assemble, a storm arose in the English Channel. It threatened the success of the operation.
At 6:00 A.M. on June 4, General Dwight D. Eisenhower decided to postpone the invasion for at least one day, hoping for better weather on June 6th. For the next 24 hours the men of the Allied invasion force remained sealed aboard their war ships.
Cramped and tense, they waited out the storm.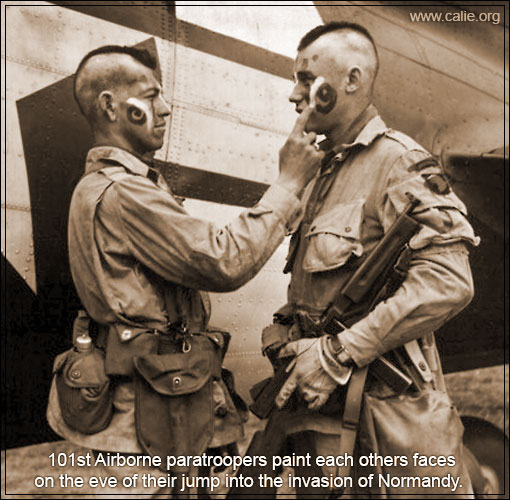 American WWII Army combat soldiers (101st Airborne Division) with Mohawk style haircuts paint each others faces with face paint on the eve of their jump into the invasion of Normandy, June 1944. The soldiers may or may not be Native American, but their haircuts and war paint appear emulative of tribal culture.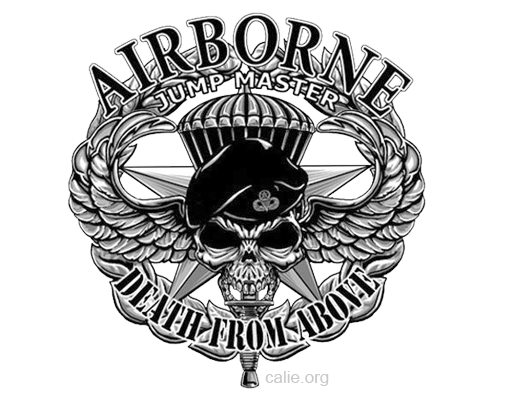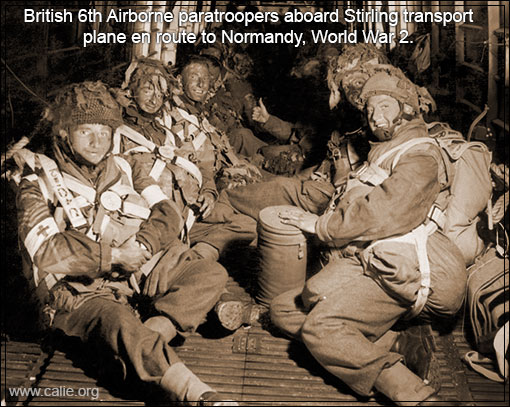 British paratroopers (6th Airborne Division) pictured en route to the Normandy invasion aboard a Royal Air Force Stirling transport plane, June 1944.
At their bases in England, the pilots and airborne troops also marked time. Everything depended on the weather and the decision of the man in charge of Operation Overlord, General Eisenhower.
On the Continent the Germans were confident that the storm in the Channel would postpone any planned Allied invasion. Rommel took the opportunity to return to his home in Germany to visit his family. In the early hours of June 5, Eisenhower pondered the weather reports and the conflicting advice of his inner circle of advisers.
Around noon on June 5, Eisenhower sat at a portable table and wrote a note, which he placed inside his wallet. Pressure or fatigue led him to misdate it July 5th:
"Our landings in the Cherbourg-Havre area have failed to gain a satisfactory foothold and I have withdrawn the troops. My decision to attack at this time and place was based upon the best information available. The troops, the air and the Navy did all that bravery and devotion to duty could do. If any blame or fault attaches to the attempt it is mine alone."
The American Airborne
The US 82nd and 101st Airborne Divisions landed behind Utah Beach. The mission of the "Screaming Eagles" of the US 101st Airborne was to seize the causeways that served as exits from Utah and capture or destroy bridges over the Douve River.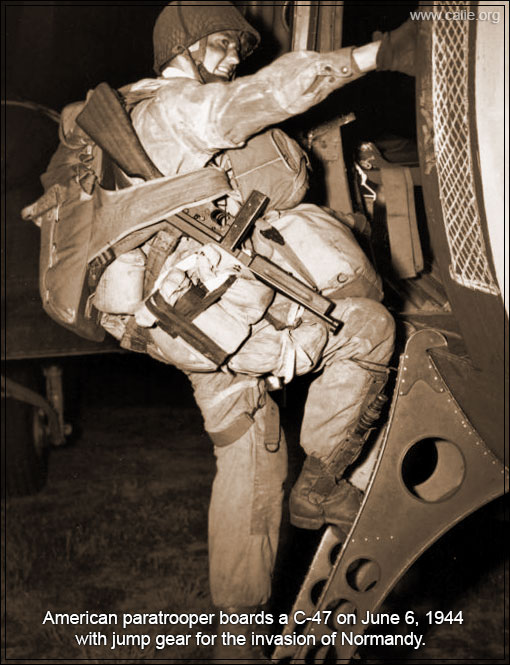 A US Army paratrooper boards a C-47 aircraft with full combat jump gear for the Normandy invasion, June 6, 1944.
The "All Americans" of the US 82nd Airborne were to destroy other Douve bridges and capture the town of Sainte-Mére-Église. Things went badly for the Americans at first. Flying in darkness and under fire from German forces, many pilots dropped their men far from planned landing zones. Scattered and disorganized, the troops were forced to improvise.
Though they achieved few of their objectives initially, they did confuse the Germans and disrupt their operations. By late morning, Sainte-Mére-Église was captured. The exit causeways from Utah Beach were secured by 1:00 P.M.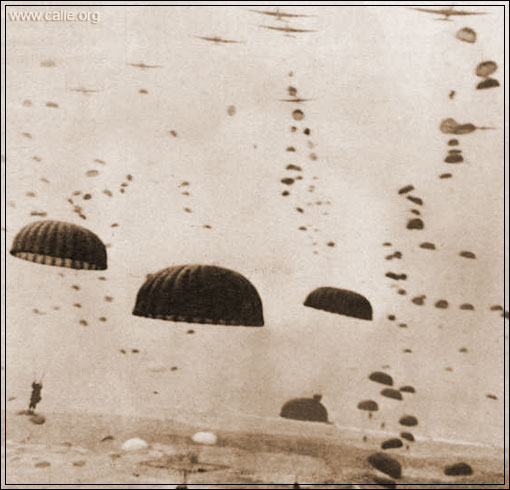 From the air — US and allied paratroopers parachuted onto the beach and deep into enemy German territory on D-Day and in support of the massive military invasion by land, sea, air, World War II combat photos.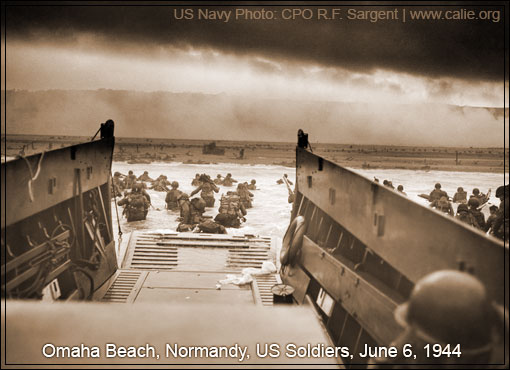 Download high-resolution photo.
From the sea — U.S. soldiers of Company E, 16th Infantry, 1st Infantry Division photographed moments after leaving the relative safety of their steel landing craft as they head out into storm surf and heavy German machine gun fire.
Two thirds of Company E toops became casualties during the initial landing operation.
FAMOUS war photojournalist Robert Capa (1913-1954) risked his life and limb embedded with the first attack troops to cover the initial D-Day landing combat at Omaha Beach — a military idiot lab technician, however, literally boiled the emulsions off his B&W film during development with hot-water wash and all but a few frames were salvageable — this gave those few historical images an eerie grainy appearance as seen above in his famous war photograph of the D-Day landing.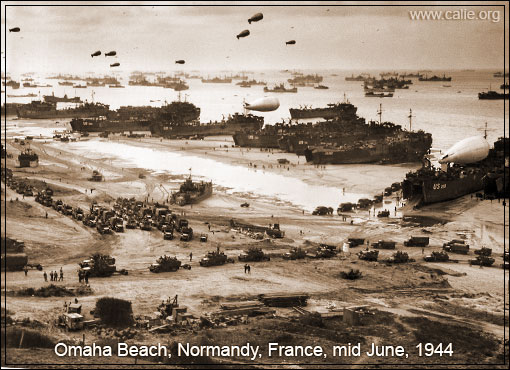 Download high-resolution photo.
Omaha Beach at low tide after the smoke cleared from the initial combat, mid-June, 1944, allied invasion troops and their supplies pour into France.
The British Airborne
The British 6th Airborne Division dropped behind Sword Beach. Their goals — capture two bridges over the Caen Canal and Orne River, destroy bridges over the Dives River, and neutralize the giant German artillery battery at Merville.
The British operations went well. The most notable was the daring capture of the "Pegasus" bridge over the Orne Canal by gliderborne troops under the command of Major John Howard.
Special Weapons and Equipment because of the special nature of airborne operations, paratroopers and glidermen received items that were not used by ground troops. They carried lighter weapons, as well as other equipment that could sustain them for several days if they were unable to link up with other soldiers right away.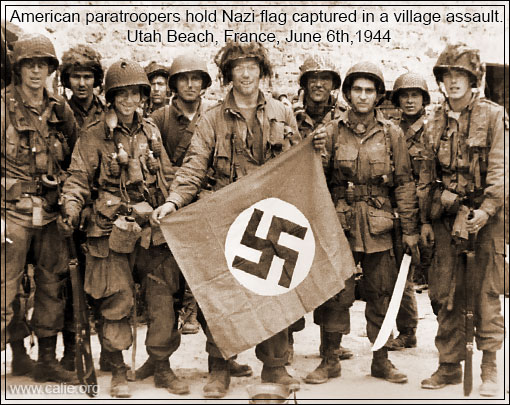 US Army soldier James Flanagan (2nd Platoon, C Co, 1-502nd Parachute Infantry Regiment PIR) — holds a Nazi flag captured in a village assault at Marmion Farm at Ravenoville, Utah Beach, France on 6 June 1944 — Flanagan was among the first American paratroopers to make a successful landing during the invasion.
Zane Schlemmer US 82nd Airborne Division:
Nineteen-year-old Sergeant Zane Schlemmer of the 508th Parachute Infantry Regiment, US 82nd Airborne Division landed in an orchard in Picauville-over a mile off-target. He fashioned this scarf from a parachute he found nearby and wore it until the war's end.
"We had jumped extremely low... and I hit in a hedgerow apple orchard, coming up with very sore bruised ribs.... I landed on the Pierre Cotelle farm, which was about a mile and half from where I should have landed.... After I landed, cleared my parachute and all, I could not join up with my people because of German fire coming from the farm house.... the firing was quite overwhelming.... I was alone. I had no idea where the hell I was other than being in France."
Eventually Schlemmer joined other paratroopers defending a hill near the Mederet River. He stayed in combat until July, when he was wounded.
Airborne All the Way!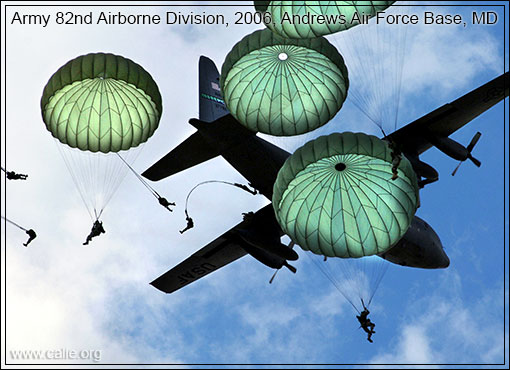 One hundred and twenty US Army paratroopers of the 82nd Airborne Division perform a mass exhibition jump during the 56th annual Department of Defense Joint Service Open House hosted at Andrews Air Force Base, Maryland, 2006.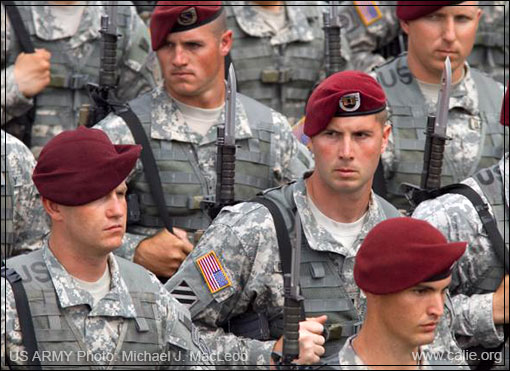 Elite paratroopers with the 82nd Airborne Division march past a reviewing stand during a division review of troops May 19, 2011, Fort Bragg, N.C. Photo: Sgt. Michael J. MacLeod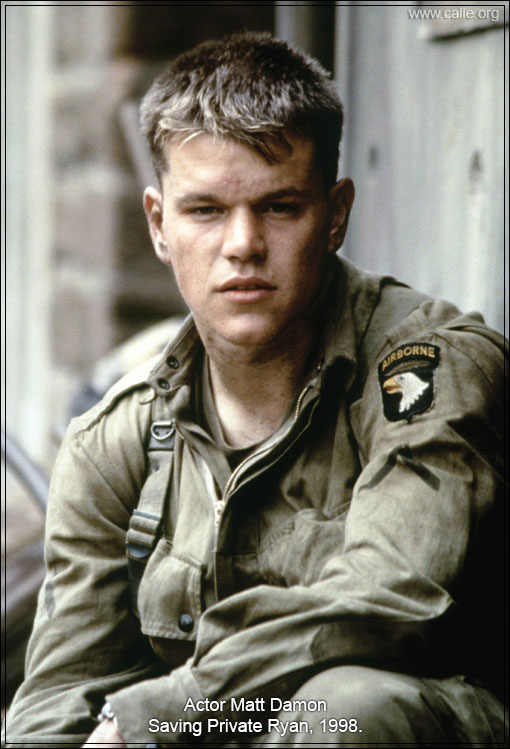 Romantic mystique surrounding the Airborne paratroopers' legendary bravery has been acted out by numerous Hollywood film actors — perhaps none better than Matt Damon in "Saving Private Ryan" — a 1998 American war epic (nominated for 11 Academy Awards, won 5 Oscars) — starring Tom Hanks, Edward Burns, Tom Sizemore, directed by Steven Spielberg, written by Robert Rodak.
Saving Private Ryan (1998) - Official Trailer:
Heroism and sacrifice at their epic climax. Following the Normandy landings, a group of US soldiers go behind enemy lines to retrieve paratrooper Private James Ryan whose three older brothers had been killed in action KIA....
US ARMY AIRBORNE VIDS
Is U.S. Army Airborne for me?
82nd Airborne @ Fort Bragg.
US Army Airborne School Recruitment video.
U.S. Army Airborne in The War On Terror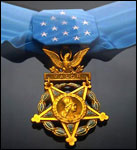 Guide to the Native American Indian U.S. Congressional Medal of Honor recipients.


Col. Van T. Barfoot (ret.) WW II Medal of Honor
Mr. Barfoot (Choctaw) is one of only five American Indians to be awarded the Congressional Medal of Honor in the 20th century. He served heroically in for his company to advance against powerful enemy resistance....
D-DAY Study GUIDE:
NATIONAL D-DAY MEMORIAL dday.org

HELP CONTRIBUTE to this section
To help contribute to this page please CONTACT the webmaster to contribute your information, links research for publication.
PRODUCED BY: Ernie Salgado Jr., Soboba tribe.
PRESENTED BY: G. BALLARD, CALIE Webmaster
Back to CALIE Native American Veterans page.