Publishing Corner:
TRIBAL BLOGGERS:
ROY COOK NEWS BLOG
THE INDIAN REPORTER
JOURNAL FROM SDC
KAREN VIGNEAULT

Indian Community:
TRIBAL COMMUNITY
PROFILES
SOARING EAGLES
OBITUARIES
Science & Wonder
ASTRONOMY PORTAL
KID'S CLUBHOUSE
Indian Heros:
VETERAN COMMUNITY
MEDALS OF HONOR
CODE TALKERS
FAMOUS CHIEFS
HISTORIC BATTLES
POEMS ESSAYS
SPORTS-ATHLETES
MISSION FEDERATION
FAMOUS INDIANS
California Indian Art:
MISSION BASKETS
RED CLAY POTTERY
ETHNOGRAPHIC ART
CAVE ART
MUSIC
CALIE Library:
FEDERAL Resources
HEALTH & MEDICAL
INDIAN BOOK LIST
HISTORICAL Documents
Academic Financial Aid:
SCHOLARSHIPS
GRANTS & FUNDING
Tribal Governments:
TRIBAL COURTS
SOVEREIGNTY
SOCIAL SERVICES
TRIBAL DIRECTORY
Indian Gaming:
INDIAN CASINO FORUM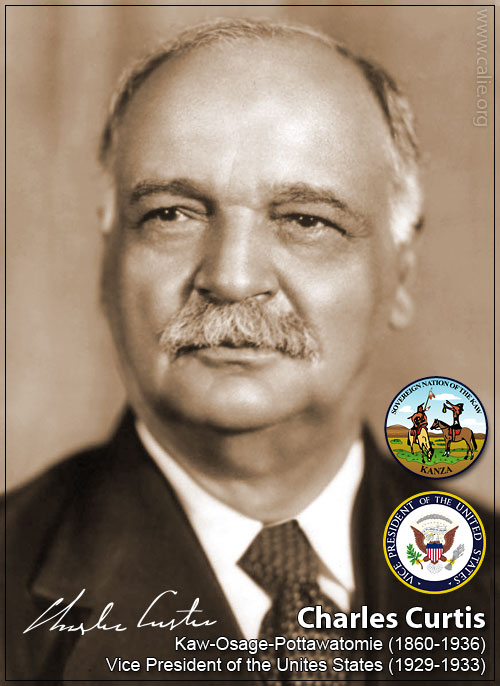 Charles Curtis, 31st vice president of the United States, Kaw-Osage-Pottawatomie. Vice President Curtis served one term under President Herbert Hoover at the beginning of the Great Depression (1929-1933). In 1933, Hoover-Curtis ran again for president against Franklin D. Roosevelt, but they lost the election in the bad economy.
CHARLES CURTIS (1860-1936)

QUICK LOOK at Charles Curtis (submitted by Hi Stockwell, 6/2011):
31st vice president of the United States, 1929-33.
First Native American Kansan to serve in U.S. Senate (has record of being member of most subcommittees at one time).
First to serve as U.S. Republican Senate Majority Leader.
First Republican Floor Leader for U.S. Senate.
First (traceable & provable) Native American as Vice-President.
Only Native American Kansan as Vice-President or President.
First Vice-President from West of the Mississippi.
First Vice-President to take vice-presidential oath with a Bible.
First Vice-President to light Whitehouse Christmas tree, 1932.

by Mark O. Hatfield (Senate Historical Office), "Vice Presidents of the United States, 1789-1993":
Formative Years on the Reservation
Although colorful in itself, Charles Curtis' actual life story often became obscured by its political mythology. He began life in 1860 in North Topeka, Kansas, where he spent his earliest years partly in the white and partly in the Native American community.
The son of Orren Curtis, a white man, and Ellen Pappan, who was one-quarter Kaw Indian, Charles Curtis on his mother's side was the great-great grandson of White Plume, a Kansa-Kaw chief who had offered assistance to the Lewis and Clark expedition in 1804. White Plume's daughter married Louis Gonville, a French-Canadian fur trader, and their daughter, Julie Gonville, married Louis Pappan.
As a result of the Kansa-Kaw treaty of 1825, the tribe relinquished its claims to its traditional lands in Missouri and Kansas. A two-million-acre reservation was established west of Topeka for full-blooded Indians, while a series of fee-simple land grants along the Kansas river were set aside for "half-breeds" — those who had intermarried with whites. Curtis' grandmother Julie Gonville Pappan received "Half-Breed Reservation No. Four," directly across the river from the Kansas capital, where she and her husband ran a profitable ferry business.
Reflecting his mother's heritage, Charles Curtis spoke French and Kansa before he learned English. His mother died in 1863, about the time that his father left to fight in the Civil War. Soon thereafter, Orren Curtis remarried, divorced, remarried again, and was dishonorably discharged from the Union army. At the end of the war, Curtis was court martialled for having hanged three prisoners in his custody — or as the charges read for "executing the bushwhackers." Sentenced to a year's hard labor at the Missouri State Penitentiary, he was pardoned a month later and returned to Kansas.
Given Orren's unstable circumstances and roving nature, young Charley remained in the custody of his paternal grandparents. In 1865, his maternal grandparents, Louis and Julie Pappan Gonville, left North Topeka to return to the Kaw reservation at Council Grove, concerned that otherwise they might be excluded from future land settlements and compensation. The next year, young Charley went to live with them on the reservation.
Since Charley could speak the Kaw language, he fit comfortably into the tribe. "I had my bows and arrows," he later recalled, "and joined the other boys in shooting arrows at nickels, dimes, and quarters which visitors would place in split sticks."
In those still-frontier days, the Kaw reservation was frequently raided by nomadic Cheyenne Indians, and during one attack Charley was sent on a mission to inform Topeka.
"I volunteered to make the trip," he later told audiences. "When we heard the Cheyennes were coming, the horses and ponies were driven to pasture, some distance from my grandpa's home, so there was no horse or pony to ride. I therefore, started out on foot, traveling during the night." The next day, he arrived in Topeka, some sixty miles away. Curtis' "cross-country run" made him a celebrity in North Topeka, but the incident also convinced his paternal grandparents, William and Permelia Curtis, that their grandson should be raised in the more "civilized" atmosphere of Topeka rather than return to the reservation.
Curtis had learned to ride Indian ponies bareback and won a reputation as a "good and fearless rider." Back in North Topeka, his grandfather William Curtis had built a race track, and in 1869 Charles Curtis rode in his first race. He soon became a full-fledged jockey and continued to ride until 1876. A fellow jockey described Curtis as "rather short and wiry" and "just another brush boy jockey," explaining that eastern riders "called us brush boys because we rode in what would be called the sticks."
As a winning jockey, Curtis was known throughout Kansas as "The IndianBoy." His mounts made a lot of money for the local gamblers and prostitutes who bet on him, and he recalled that after one race a madam bought him "a new suit of clothes, boots, hat and all," and had a new jockey suit made for him; others bought him candy and presents. "I had never been so petted in my life and I liked it," Curtis reminisced.
His family, however, had greater ambitions for the boy than horse racing.
In 1871, grandfather William Curtis brought suit on behalf of Charley and his sister Elizabeth to establish their claim, over that of their father, for title to their mother's share of the Half-Breed Lands in North Topeka. When Curtis' father lost this suit, he left Topeka for good. Grandfather Curtis wanted Charley to stop racing and go back to school, but after his grandfather's death in 1873, the boy set out to join his other grandparents Louis and Julie Pappan, who were traveling with the Kaw Tribe from Kansas to the Indian Territory of Oklahoma.
Still on the tribal roll, and "longing for the old life," he wanted to live on the reservation. Grandmother Julie talked him out of it. She invited him to her wagon and asked why he wanted to go to the Indian Territory. While she would have liked nothing better than to have him live with her, she told him that on the reservation he would end up "like most of the men on it," without an education or future prospects.
If Charley expected to make something of himself, he should return to Topeka and attend school.
"I took her splendid advice and the next morning as the wagons pulled out for the south, bound for Indian Territory, I mounted my pony and with my belongings in a flour sack, returned to Topeka and school," Curtis recounted. "No man or boy ever received better advice, it was the turning point in my life."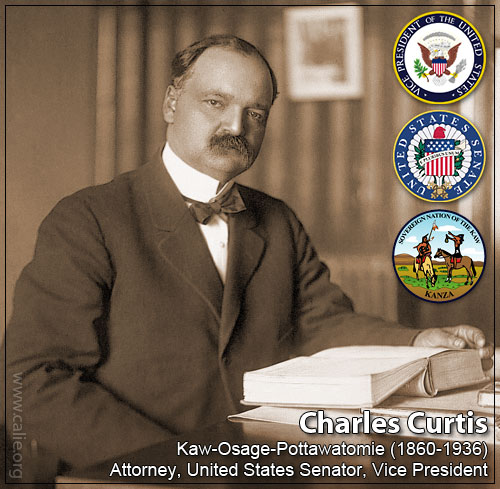 A Passion for Politics
In Topeka, Curtis lived with grandmother Permelia Hubbard Curtis, a decidedly strong-minded woman. "She brooked no opposition," recalled Charley's half-sister, Dolly. "I think she regarded being both a Methodist and a Republican as essential for anyone who expected to go to heaven."
When Charley was offered a contract to race at the Philadelphia Centennial in 1876, Permelia Curtis put her foot down. Instead, he retired as a jockey and went to high school. After graduating, he studied law, supporting himself by working as a custodian in a law firm and by driving a hack. When he had no customers, he would stop under street lamps to read his law books.
In 1881, at the age of twenty-one, Charles Curtis was admitted to the Kansas bar. Although his life appeared to be a rags-to-riches story, Curtis had in fact a considerable inheritance in land in North Topeka. The young lawyer plunged into real estate, selling lots and building houses. He also opened his own firm and practiced criminal law. In 1884, Charles Curtis married Anna Baird. They had three children and also took in his half-sister Dolly when her mother died.

As a young man, Curtis showed a passion for politics. In 1880, during James Garfield's campaign for president, Curtis donned an oilcloth cap and carried a torch in a Republican parade through Topeka. It was only a matter of time before the popular "Indian jockey" ran for office himself.
In 1884, after shaking every hand in the district, Curtis won election as Shawnee county attorney. Since both his father and grandfather Curtis had operated saloons in North Topeka, he was supported by the liquor interests, which had also retained his law firm. But once elected, Curtis insisted on enforcing the state's prohibition laws and closed down all of the saloons in the county. He won attention not only as a "dry," but as a law-and-order prosecutor.
By a single vote in 1889, Curtis lost the nomination to fill a vacancy in the U.S. House of Representatives. It was a time of agrarian depression, when voters in the West were turning away from conservatives like Curtis in favor of the more radical solutions put forward by the Farmers' Alliance and its political offspring, the Populist party.
In 1891, William Allen White, editor of the Emporia Gazette, first met the "young prince," Charles Curtis, and later provided this description:
He came down from Topeka to campaign the county, sent by the Republican state central committee. His job was to fight the Farmers' Alliance. He had a rabble-rousing speech with a good deal of Civil War in it, a lot of protective tariff, and a very carefully poised straddle on the currency question (which, I was satisfied then—and still think—that he knew little about, and cared nothing for). For his politics were always purely personal. Issues never bothered him.

He was a handsome fellow, five feet ten, straight as his Kaw Indian grandfather must have been, with an olive skin that looked like old ivory, a silky, flowing, handlebar mustache, dark shoe-button eyes, beady, and in those days always gay, a mop of crow's wing hair, a gentle ingratiating voice, and what a smile!
For three days, White and Curtis toured the county together, with White making the introductions and Curtis making the speeches.
Never had White met anyone who could charm a hostile audience as effectively as did Curtis, whose personality could overshadow whatever he was speaking about.
This trait helped Curtis defeat the Populist and Democratic fusion candidate for a seat in the House in 1892 — the same election that saw Kansas vote for the Populist presidential candidate and elect a Populist governor.
Curtis' upset victory brought him to the attention of prominent easterners, such as House Republican leader Thomas B. Reed, who were delighted that someone who thought the way they did on tariff, railroad, and currency issues could win election in so Populist a state as Kansas.
Reed took a particular liking to "the Indian," as he called Curtis, and made him one of his lieutenants...DOWNLOAD FULL PDF | ORIGINAL SOURCE.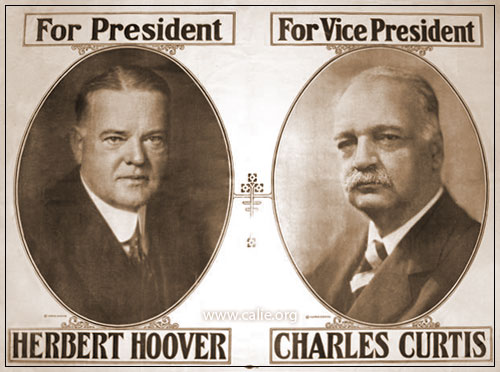 Historical presidential banner: Herbert Hoover for President, Charles Curtis for Vice President, 1928.

Then Senator Curtis pictured riding in an automobile en route to the Capitol, March 4, 1925. Pictured in the car are President Calvin Coolidge and his wife.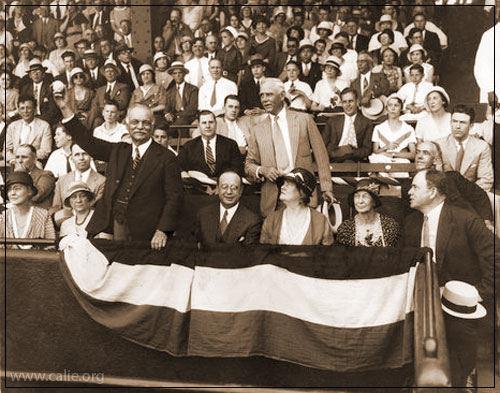 Mr. Curtis pictured holding up a baseball, circa 1930.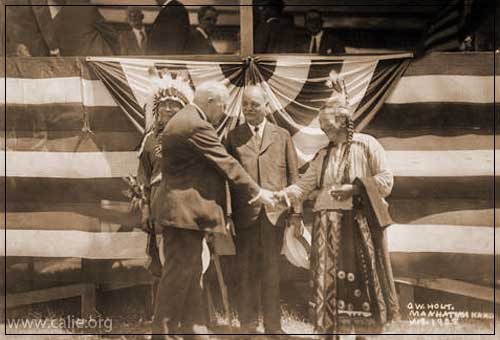 +++++++
WHO PRODUCED THIS BLOG?


Ernie C. Salgado Jr.
Tribal: Luiseño
Reservation: Soboba Indian Reservation
EDITOR: The Indian Reporter www.theindianreporter.com
Founder/CEO CALIE: www.californiaindianeducation.org
Web Site: www.apapas.com
CONTACT
RESUME/BIOGRAPHY
PUBLISHED ARTICLES