Publishing Corner:
ROY COOK NEWS BLOG
THE INDIAN REPORTER
TRIBAL BLOGGERS
Indian Community:
TRIBAL COMMUNITY
PROFILES
OBITUARIES
Science & Wonder
ASTRONOMY PORTAL
KID'S CLUBHOUSE
Indian Heros:
VETERAN COMMUNITY
MEDALS OF HONOR
CODE TALKERS
FAMOUS CHIEFS
HISTORIC BATTLES
POEMS ESSAYS
SPORTS-ATHLETES
MISSION FEDERATION
FAMOUS INDIANS
California Indian Art:
MISSION BASKETS
RED CLAY POTTERY
ETHNOGRAPHIC ART
CAVE ART
MUSIC
CALIE Library:
FEDERAL Resources
HEALTH & MEDICAL
INDIAN BOOK LIST
HISTORICAL Documents
STD Information
Academic Financial Aid:
SCHOLARSHIPS
GRANTS & FUNDING
Tribal Governments:
TRIBAL COURTS
SOVEREIGNTY
SOCIAL SERVICES
TRIBAL DIRECTORY
Indian Gaming:
INDIAN CASINO FORUM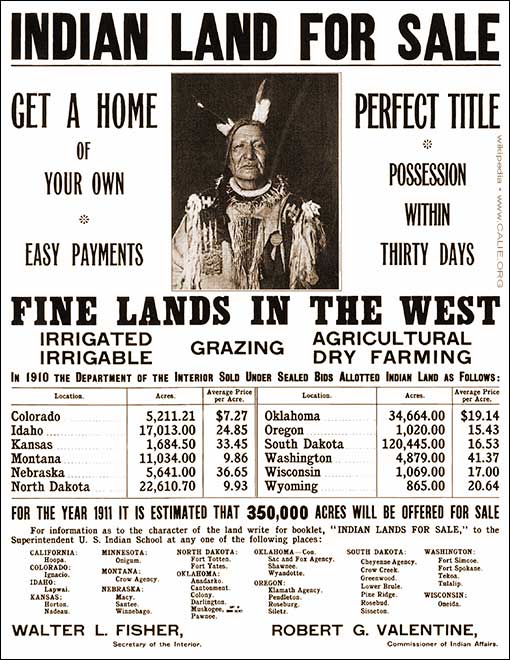 Click for high-resolution historic poster.
Caption: United States Department of the Interior 1911 advertisement offering Indian Land for Sale. The American Indian portrait used is Not Afraid of Pawnee (Yankton Sioux tribe). Notes average prices of historic tribal lands per acre. Image: Wikipedia.org
INDIAN LAND FOR SALE
Get a home of your own — easy payments.
Perfect title — possession within thirty days.
Fine lands in the West, irrigated, irrigable, grazing, agricultural dry farming.
For information as to the character of the land write for booklet, "INDIAN LAND FOR SALE," to the Superintendent U.S. Indian School at any one of the following places:
CALIFORNIA: Hoopa
COLORADO: Ignacio
IDAHO: Lapwai
KANSAS: Horton, Nadeau
MINNESOTA: Onigum
MONTANA: Crow Agency
NEBRASKA: Macy, Santee,Winnebago
NORTH DAKOTA: Fort Totten, Fort Yates
OKLAHOMA: Anadarko, Cantonment, Colony, Darlington, Muskogee, Pawnee
OKLAHOMA-Con: Sac and Fox Agency, Shawnee, Wyandotte
OREGON: Klamath Agency, Pendleton, Roseburg, Siletz
SOUTH DAKOTA: Cheyenne Agency, Crow Creek, Greenwood, Lower Brule, Pine Ridge, Rosebud, Sisseton
WASHINGTON: Fort Simcoe, Fort Spokane, Tekoa, Tulalip
WISCONSIN: Oneida
DEPARTMENT OF THE INTERIOR, 1911
Walter L. Fisher, Secretary of the Interior
Robert G. Valentine, Commissioner of Indian Affairs
Sponsored by:

Ahmium Learning Center, Inc.
EXECUTIVE DIRECTOR: Ernie C. Salgado, Jr
617 E Main St., STE B
San Jacinto, CA 92582
WEBSITE: www.ahmium.org
Research & presentation: Gary Ballard