Publishing Corner:
TRIBAL BLOGGERS:
ROY COOK NEWS BLOG
THE INDIAN REPORTER
JOURNAL FROM SDC
KAREN VIGNEAULT

Indian Community:
TRIBAL COMMUNITY
PROFILES
OBITUARIES
Science & Wonder
ASTRONOMY PORTAL
KID'S CLUBHOUSE
Indian Heros:
VETERAN COMMUNITY
MEDALS OF HONOR
CODE TALKERS
FAMOUS CHIEFS
HISTORIC BATTLES
POEMS ESSAYS
SPORTS-ATHLETES
MISSION FEDERATION
FAMOUS INDIANS
California Indian Art:
MISSION BASKETS
RED CLAY POTTERY
ETHNOGRAPHIC ART
CAVE ART
MUSIC
CALIE Library:
FEDERAL Resources
HEALTH & MEDICAL
INDIAN BOOK LIST
HISTORICAL Documents
STD Information
Academic Financial Aid:
SCHOLARSHIPS
GRANTS & FUNDING
Tribal Governments:
TRIBAL COURTS
SOVEREIGNTY
SOCIAL SERVICES
TRIBAL DIRECTORY
Indian Gaming:
INDIAN CASINO FORUM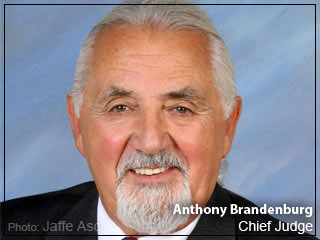 Judge Anthony Brandenburg, Chief Judge of the Intertribal Court of Southern California, commissioner California Superior Court (retired). (Photo by Jaffe Associates).
CHIEF JUDGE ANTHONY BRANDENBURG
PROFESSIONAL BIOGRAPHY
Judge Brandenburg is currently serving as Chief Judge of Intertribal Court of Southern California. Brandenburg's career has included more than 16 years of service on the bench In both the Municipal and Superior Courts at the Vista courthouse. In addition, he has been a lawyer in private practice, an entrepreneur, and an educator.
Judge Brandenburg has served honorably in the United States Marine Corps. He received his Associate of Arts degree in 1965 from Palomar College and then went on to become a successful local entrepreneur. He later furthered his education, receiving a Bachelor of Science degree in Education and an elementary school teacher credential from Eastern State College, and then a Master of Arts degree in Instructional Media and Curriculum Development from the University of Connecticut. Returning to San Diego, he attended Thomas Jefferson University where he received his Juris Doctorate in Law.
After working as an attorney in private practice with a focus on criminal law, business contract, and labor, family, and juvenile law, Brandenburg was appointed to the California Municipal Court and later elevated to the Superior Court as a Commissioner. While serving on the bench in at the Vista Courthouse, he worked in a variety of capacities, handling both civil and criminal proceedings.
INTERTRIBAL COURT OF SOUTHERN CALIFORNIA
In 2004, having retired from the Superior Court, he was appointed as Chief Judge of the Intertribal Court of Southern California where he currently presides.

INTERTRIBAL COURT SOUTHERN CALIFORNIA ICSC
"The overall purpose of the ICSC is to provide members of the Native American community and their participating tribes with a cultural sensitive Judicial Forum in which to present and resolve disputes...".
Judge Brandenburg has established himself as a recognized leader in both the educational and tribal communities. He has received numerous honors and accolades in his judicial capacity, and has been active in several organizations. He has been a university professor for 29 years, teaching law and ethics as well as curriculum development, and has written several articles and publications on the law and related topics including authoring teaching programs for the California Administrative Offices of the Court. He has trained over 200 pro tem judges, and has received the Restorative Justice Award from the Amicus Project and a National Association of Counties Award for his efforts, as well as The Spirit of Luiseño Award from the Rincon Band of Mission Indians. He served for eight years on the Encinitas Union School District Board of Education, and is the past President of the Encinitas Facilities Foundation. He is also past President of both the San Diego County Judges Association and the California State Commissioners Association.
As a faculty member at the National Judicial College in Reno, Nevada, he teaches programs on Native American Tribal issues. He has published a host of articles and has written and presented several programs on subjects including Indian Law, diversity training, tribal community relations, and the legal and social issues facing Native Americans today. He continues to work closely with tribal leaders, our local state court and law enforcement and the Southern California Tribal Chairman's Association as a community resource, educator, and mentor. He travels extensively in a continual effort to improve the legal standing of Native Americans and is dedicated to improving the quality of life on our reservations.
Biography submitted by Nikki Symington.