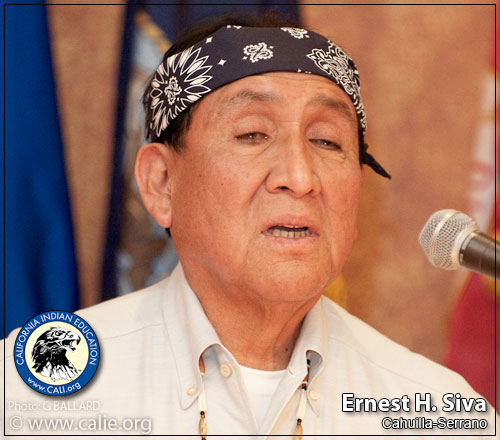 American Indian elder Ernest H. Siva (Cahuilla-Serrano) addressed the CIEDA 32nd Annual Conference on American Indian Education in Palm Springs, March 31, 2009. Brochure biography:
ERNEST SIVA
Ernest Siva (Cahuilla-Serrano), 71, is a longtime teacher and cultural bearer who has dedicated his life to sharing cultural knowledge, traditions, and values with trial members of all ages and the greater public community.
Ernest Siva grew up on the Morongo Indian Reservation near Banning, CA, and learned the Serrano language and culture at home. he earned bachelor's and master's degrees in music education and choral music from the University of Southern California (USC). For years he taught music in schools at all levels, finally in classes in American Indian music and world arts and cultures at University of California, Los Angeles.
Mr. Siva serves as Tribal historian and Cultural Advisor for the Morongo Band of Indians. He is Native American Artist in Residence at California State University, San Bernardino. And he is President and founder of Dorothy Ramon Learning Center, Inc., a 501(c)(3) nonprofit that saves and shares Southern California Native American cultures, languages, history, and music, including other traditional arts. Mr. Siva has poured much of his own money into establishing this regional center and supporting its activities and its publishing arm, Ushkana Press.
Mr. Siva partnered with Dorothy Ramon Learning Center:



Newsletter for Current Tribal Events
Welcome to Dorothy Ramon Learning Center's online newsletter...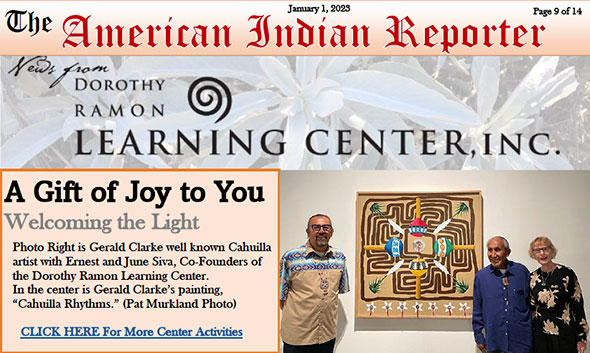 our words
our arts
our stories
tell the stories.
sing the songs.
Mr. Siva also serves on the boards of the California Indian Storytelling Association; Idyllwild Arts; and the Riverside Arts Council, which serves Inland Southern California. He is often sought as a traditional musician and storyteller across California and beyond. He is also artistic director of the Pass Chorale, a community chorus in the San Gorgonio Pass area, and he directs a local church chorus.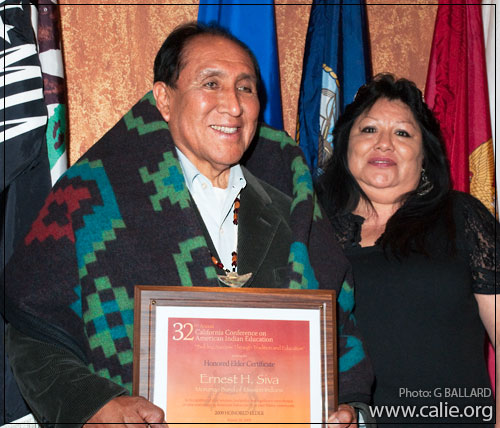 Respected tribal elder: ERNEST SIVA receives an award at the CIEDA 32nd Annual Conference on American Indian Education in Palm Springs, March 31, 2009.
Mr. Siva's formal music education and storytelling gifts have nurtured his lifelong work in preserving Native American heritage and restoring and revitalizing culture for the present and future:
• Ernest Siva is one of the few remaining speakers of the Serrano language and works tirelessly with tribal members, linguists, and others to preserve and teach language, stories and songs — all contain the history of the Serrano people.
• Ernest Siva's premier book and CD, Voices of the Flute, published for the first time the traditional music of Serrano, Cahuilla, and Luiseño nations. His book offers the music, the words in Indian, and stories behind the songs; on the CD he plays the songs on the flute and sings them. He also devised a path-breaking music notation system for the flute.
• Currently, as possibly the lone person in recent years who has been singing the remaining ancient Serrano bighorn sheep songs, he is working with a 17-year-old apprentice to ensure the songs are saved for the future.
Mr. Siva recently received the Inaugural state Cultural Guardian award from the California Indian Museum and Cultural Center CIMCC, based in Santa Rosa, for his exemplary statewide leadership as an elder. At home, he also is much respected in his role as cultural advisor. For example, several years ago Morongo leaders asked graduating high school seniors what reward they'd like for their academic success. Instead of choosing a trip to an amusement park or something material, the simply asked to have Ernest Siva come and tell stories and sing to them. He is always thrilled to do just that.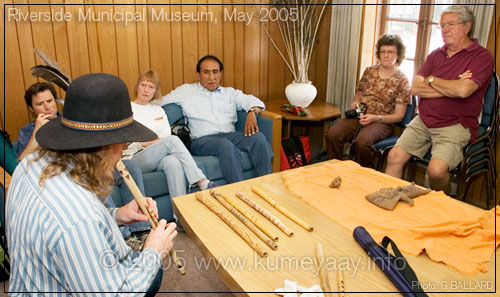 Other examples of Ernest Siva's leadership as an elder:
• Because of his academic degrees and his years of teaching and sharing traditional knowledge within the academic community, he is often invited to come in classrooms or to join research projects. He then often serves as liaison, creating a bridge for other elders from different nations, bringing them in so their voices and their traditional knowledge can also be valued, preserved, and shared. For example, in the spring Cal State San Bernardino will offer a culture class featuring Ernest Siva and through his strength and support, many guests who are American Indian elders and others with accurate knowledge of traditional ways.
• Dorothy Ramon Learning Center's monthly Dragonfly Lecture series share Indian cultural knowledge, history, and traditional arts with tribal communities and the greater public. The history that is not found in the history books. As an elder, he guides the lectures in sharing knowledge respectfully, accurately, and appropriately.
• Mr. Siva offers a twice-monthly Serrano language and culture class for free to anyone interested.
• Ernest Siva has a sweet and gentle presence that is also commanding; he works easily with people of all ages. For example, last year he had an audience of very young children at Riverside Metropolitan Museum. They all sat rapt, many holding their teddy bears, as he taught them to sing a song in Serrano about a little bear. He reaches people often through a dragonfly song that teaches traditional values such as learning to be still and to listen, and shares the wonder of these endangered Indian cultures.
• As an elder, Ernest Siva sees no honor in being the last one to know something. he works not to just save culture, but to revitalize it, and he shows by example how one can live in the modern world without forgetting one's cultural identity; indeed, he teaches how that identity can forge integrity and character.
Source: CIEDA 32nd Annual Conference on American Indian Education brochure.