Publishing Corner:
ROY COOK NEWS BLOG
THE INDIAN REPORTER
TRIBAL BLOGGERS
Indian Community:
TRIBAL COMMUNITY
PROFILES
OBITUARIES
Science & Wonder
ASTRONOMY PORTAL
KID'S CLUBHOUSE
Indian Heros:
VETERAN COMMUNITY
MEDALS OF HONOR
CODE TALKERS
FAMOUS CHIEFS
HISTORIC BATTLES
POEMS ESSAYS
SPORTS-ATHLETES
MISSION FEDERATION
FAMOUS INDIANS
California Indian Art:
MISSION BASKETS
RED CLAY POTTERY
ETHNOGRAPHIC ART
CAVE ART
MUSIC
CALIE Library:
FEDERAL Resources
HEALTH & MEDICAL
INDIAN BOOK LIST
HISTORICAL Documents
STD Information
Academic Financial Aid:
SCHOLARSHIPS
GRANTS & FUNDING
Tribal Governments:
TRIBAL COURTS
SOVEREIGNTY
SOCIAL SERVICES
TRIBAL DIRECTORY
Indian Gaming:
INDIAN CASINO FORUM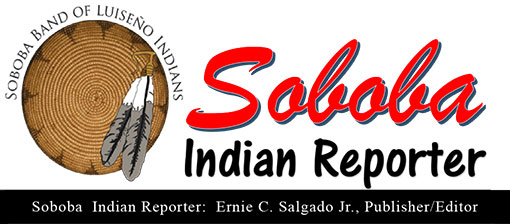 YES, WE ARE STILL HERE
by Annette Guachino, Iipay Nation of Santa Ysabel
special to the Soboba Indian Reporter, Sept. 2017
While I was at La Jolla Shores, an elderly foreign woman, maybe Russian approached me.
Heavy accent, she asked if we were real Indians and why we were singing and dancing there on the beach. She was genuinely interested, no sarcasm.
She said she heard us singing in the restroom and couldn't wait to go out to see for herself.
She was brought to tears listening to the bird songs and watching the young women dance.
She kept saying it was beautiful, just beautiful.
She asked if we lived on Indian reservations. I told her yes a lot (many) of us do and I told her she was on Kumeyaay land now.
She was so excited and the look in her eyes as she stood there and watched in disbelief that "real Indians" were before her was something I'd never witnessed.
I left her with tears in her eyes and a smile like a child looking at the gates of Disneyland.
She'd thought we were extinct.
This commentary was contributed by Annette Guachino and published with her permission.
+++++++
WHO PRODUCED THIS BLOG?


Ernie C. Salgado Jr.
Tribal: Luiseño
Reservation: Soboba Indian Reservation
EDITOR: The Indian Reporter www.theindianreporter.com
Founder: www.californiaindianeducation.org
Web Site: www.apapas.com
CONTACT
RESUME/BIOGRAPHY
PUBLISHED ARTICLES
PROFESSIONAL WEB BLOG SERVICES.