Publishing Corner:
ROY COOK NEWS BLOG
THE INDIAN REPORTER
TRIBAL BLOGGERS
Indian Community:
TRIBAL COMMUNITY
PROFILES
SOARING EAGLES
OBITUARIES
Science & Wonder
ASTRONOMY PORTAL
KID'S CLUBHOUSE
Indian Heros:
VETERAN COMMUNITY
MEDALS OF HONOR
CODE TALKERS
FAMOUS CHIEFS
HISTORIC BATTLES
POEMS ESSAYS
SPORTS-ATHLETES
MISSION FEDERATION
FAMOUS INDIANS
California Indian Art:
MISSION BASKETS
RED CLAY POTTERY
ETHNOGRAPHIC ART
CAVE ART
MUSIC
CALIE Library:
FEDERAL Resources
HEALTH & MEDICAL
INDIAN BOOK LIST
HISTORICAL Documents
Academic Financial Aid:
SCHOLARSHIPS
GRANTS & FUNDING
Tribal Governments:
TRIBAL COURTS
SOVEREIGNTY
SOCIAL SERVICES
TRIBAL DIRECTORY
Indian Gaming:
INDIAN CASINO FORUM
Patsy "Pat" Salgado
1946-2014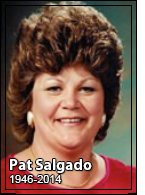 Patsy "Pat" Ann Salgado went to heaven on June 22, 2014. She was born March 30, 1946 in Kingsport, Tennessee where she lived until the age of nine. She and her family moved to Chicago, Illinois and later to Gary, Indiana. In 1962, again with her family she move to Long Beach, California were she attended Poly High School. She was a beloved homemaker, wife, mother, grandmother and great-grandmother.
Pat was an avid reader and an accomplished quilter. She was an active member of the Maze Stone Quilters in Hemet, California and served as President and Treasurer of the Board of Directors and as the Chair of the Ways and Means Committee for the organization.
She attended Rio Hondo College and Mt. San Jacinto College. She work for the San Jacinto Unified School District as a classroom teaching assistant in Special Education. For many years she volunteered as a tutor for the Ahmium Indian Education program on the Soboba Indian Reservation.
Mrs. Salgado is survived by her husband of fifty one years, Ernie C. Salgado Jr., of the Soboba Band of Luiseño Indians, a brother, Michael Kraus of Hemet, California: two daughters, Andrea Salgado-Marquez (Claudio) and Rebecca "Becky" Salgado-Flores (Chris), five granddaughters, Ashley Salgado-Galvan (Gus), Alyssa Salgado-Vallejo (Andrew), Amanda Salgado-Marquez, Corryn Salgado-Flores, and Cynthia Salgado-Flores: Three great-children Lorraine "Lo" Galvan, Luca "Brother" Galvan and Isabella "Bella" Vallejo. She also leaves many nephews and nieces.
A mass will be held at Our Lady of the Valley Catholic Church in Hemet, California on Saturday June 28, 2014 at 1pm. A traditional lunch will follow the mass at the Church. The interment will be held at a later date and will be private for the immediate family.


Posted by Ernie C. Salgado, Jr. (Soboba tribe)
Tribal: Luiseño
Reservation: Soboba Indian Reservation
FOUNDER/CEO: www.calie.org
EDITOR: The Indian Reporter www.theindianreporter.com
Web Site: www.apapas.com
CONTACT