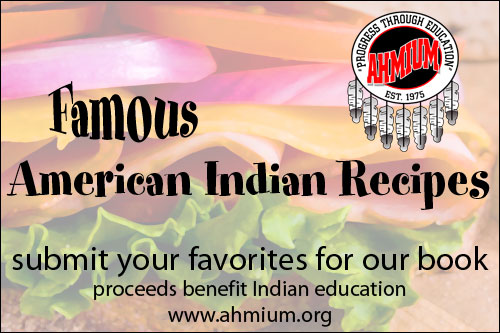 FAMOUS AMERICAN INDIAN RECIPES Cookbook
AHMIUM EDUCATION, INC. is in the process of creating a new cookbook featuring the "Famous American Indian Recipes" — proceeds to benefit Indian education. AHMIUM Education, Inc. is a 501 (C)(3) not-for-profit organization. Ahmium was established in 1975 and has proudly served the California Native American Indian community for more than 36 years.
PUBLISH YOUR FAVORITE RECIPES IN OUR COMMUNITY COOKBOOK
Ahmium is looking for the best Native American Indian cooks to feature in its new cookbook.
DOWNLOAD OUR ENTRY FORM
DOWNLOAD the .zip form to fill out and e-mail Ahmium your favorite recipes (Microsoft Office Word needed to complete form). If you need help with this process please CONTACT the WEBMASTER for assistance.
Our famous cookbook may include sections of traditional, favorites, modern categories:
Appetizers & Beverages
Soups & Salads
Vegetables & Side Dishes
Main Dishes
Breads & Rolls
Desserts
Cookies & Candies
This & That
+++++++


Ernie C. Salgado Jr., Executive Director, Ahmium Education, Inc.
Tribal: Luiseño
Reservation: Soboba Indian Reservation
EDITOR: The Indian Reporter www.theindianreporter.com
Founder/CEO CALIE: www.californiaindianeducation.org
Web Site: www.apapas.com
CONTACT
RESUME/BIOGRAPHY
PUBLISHED ARTICLES
+++++++
DISCLAIMER
Upon submitting any recipe to Ahmium Education, it will become eligible for publication in Ahmium's books and CALIE.ORG's on-line community websites.
Upon submitting any recipe to Ahmium Education, you will thereby grant Ahmium Education an irrevocable, nonexclusive, worldwide, perpetual, royalty-free right and license to use, modify, display, perform publicly, reproduce, publish, distribute, make derivative works of, sub-license, and commercially and non-commercially exploit your submitted recipe(s).
At its sole discretion, Ahmium Education may edit or choose to not use your submitted recipe(s).
You hereby warrant and represent (1) you have all legal rights and authority to grant Ahmium Education the license to use your submitted recipe(s), and (2) your submitted recipe(s) does not violate or infringe on any copyright, trade secret, trademark, or other intellectual property right of any other person or entity.
Upon submitting any recipe to Ahmium Education, you thereby grant Ahmium Education the right to use your name and other information about you in publications, uses, or postings of your submitted recipe(s).
You are required to include your full contact information, including, name, phone, email, and address so Ahmium Education can contact you regarding your submitted recipe(s).
The CALIE.ORG and AHMIUM.ORG User Agreement applies to all use of our websites, including all submitted recipe(s).