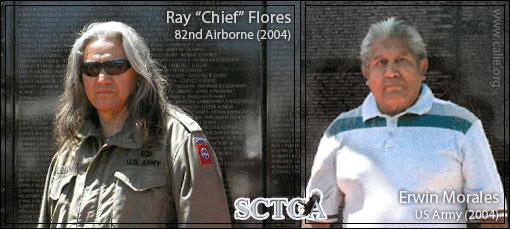 VIETNAM WALL EXPERIENCE
Southern California Tribal Chairmen's Association SCTCA Tribal TANF News, Vol., 6 Issue 62
OCEANSIDE, CA — In April of 2004, a replica known as the Vietnam Wall Experience was on display in Oceanside. The wall is a three-quarter-size replica of the 10-foot tall, 493-foot-long black granite monument in Washington, D.C. The Wall in Washington, D.C., was designed by Maya Ying Lin.
Created in 1990, the replica is the largest of the three traveling replicas. On the mirror-like, black faux-granite finish are the names of the more than 58,000 dead and missing in Vietnam. It has been displayed in in more than 200 cities and been seen by millions of people.
The opening ceremony featured a military band, tributes and guest speakers. There was a candlelight vigil on Saturday and a closing ceremony on Sunday The replica remained open to the public until midnight on Sunday.
After the ceremony many people walked back and forth on the red carpet next to the wall looking for a friend or relative's name engraved on the wall. All the names are listed chronological. There were volunteers there to help people find the names through a computer data base or from a directory book.
Numerous visitors left flowers, notes, cards, portraits and military medals as mementos to be put in a time capsule that will be sealed and buried at Eternal Hills Park in Oceanside in memory of the fallen Vietnam Veterans. It will be opened 20 years from now on April 23, 2024.
Please DOWNLOAD SCTCA PDF for more event photographs and detailed information.
+++++++
"CALL FOR PHOTOS PROJECT" (2012)
I got involved with the Vietnam Veterans Memorial Fund about a year ago. They started a campaign the "Call for Photos" with the goal to put a face with every name on the Vietnam Veterans Memorial Wall.
If you know of anyone that may have photos of any other Fallen Soldiers from the Vietnam War, it would be greatly appreciated to get a photo of them. I will help submit to Washington DC. Thank you Aloha Janna Livesay Hoehn.
+++++++
From the CEO, Editor:
"Dear Tribal Community,"
(especially U.S. Military Veterans and their families)
CALIE MILITARY PROJECTS:
VISIT OUR TRIBAL MILITARY VETERANS' WEB PORTAL




U.S. Army Airborne — historical look back at American special forces history, picture gallery, videos, multimedia.

TOP 10 GREATEST AMERICAN INDIAN CHIEFS & LEADERS


Col. Van T. Barfoot (ret.) WW II Medal of Honor — Mr. Barfoot (Choctaw) is one of only five American Indians to be awarded the Congressional Medal of Honor in the 20th century. He served heroically in the WW2, Korean and Vietnam wars...then his neighborhood association told the 90-year-old American warrior to take down his flag pole...


WW2 NAVAJO CODE TALKERS took part in every assault the U.S. Marines conducted in the Pacific from 1942 to 1945. They served in all six Marine divisions, Marine Raider battalions and Marine parachute units, transmitting messages by telephone and radio in their Native American indigenous language — a "code" that the Japanese never broke....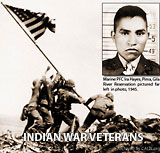 TWENTY TWO YEAR OLD MARINE PRIVATE FIRST CLASS IRA HAYES — first man on left — raises the American flag at the Battle of Iwo Jima in 1945.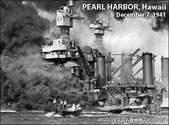 PEARL HARBOR: "December 7, 1941 — a day that will live in infamy."
Produced by ERNIE SALGADO JR
Presentation by G BALLARD