Publishing Corner:
ROY COOK NEWS BLOG
THE INDIAN REPORTER
TRIBAL BLOGGERS
Indian Community:
TRIBAL COMMUNITY
PROFILES
OBITUARIES
Science & Wonder
ASTRONOMY PORTAL
KID'S CLUBHOUSE
Indian Heros:
VETERAN COMMUNITY
MEDALS OF HONOR
CODE TALKERS
FAMOUS CHIEFS
HISTORIC BATTLES
POEMS ESSAYS
SPORTS-ATHLETES
MISSION FEDERATION
FAMOUS INDIANS
California Indian Art:
MISSION BASKETS
RED CLAY POTTERY
ETHNOGRAPHIC ART
CAVE ART
MUSIC
CALIE Library:
FEDERAL Resources
HEALTH & MEDICAL
INDIAN BOOK LIST
HISTORICAL Documents
STD Information
Academic Financial Aid:
SCHOLARSHIPS
GRANTS & FUNDING
Tribal Governments:
TRIBAL COURTS
SOVEREIGNTY
SOCIAL SERVICES
TRIBAL DIRECTORY
Indian Gaming:
INDIAN CASINO FORUM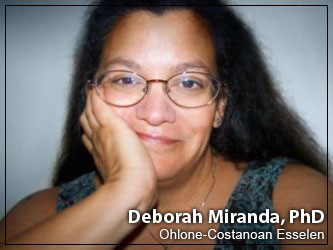 DEBORAH MIRANDA
PhD. in English, University of Washington (2001)
M.A. in English, University of Washington (spring 2001)
B.S., Teaching Moderate Special Needs Children, Wheelock College (1983)
Deborah A. Miranda is an enrolled member of the Ohlone-Costanoan Esselen Nation of California, and is of Chumash ancestry as well.
Dr. Miranda is currently finishing "Bad Indians: A Tribal Memoir," a collection of stories, poems, Mission documents, her Esselen grandfather's tape-recorded histories, government records, newspaper articles, and her own experiences as a mixedblood California Indian woman in the 21st century, as well as a book of poems titled "Written on the Bark of Trees: Praise Poems."
American Indian Poet
Deborah Miranda also authored two poetry collections: Indian Cartography [Greenfield Review Press, 1999] which won the Diane Decorah Award for First Book from the Native Writer's Circle of the Americas, and The Zen of La Llorona, nominated for the Lambda Literary Award [Salt Publishing, 2004].
As Associate Professor of English at Washington and Lee University, Deborah teaches Creative Writing (poetry and memoir), composition, and a variety of literatures concerned with race, gender and ethnicity.
WLU biographical profile PDF — (original source).
Here is one of Deborah's most famous American Indian poems:

Indian Cartography excerpts

by Deborah A. Miranda,
Ohlone-Costanoan Esselen

Indian Cartography

My father opens a map of California—
traces mountain ranges, rivers, county borders
like family bloodlines. Tuolomne,
Salinas, Los Angeles, Paso Robles,
Ventura, Santa Barbara, Saticoy,
Tehachapi. Places he was happy,
or where tragedy greeted him
like an old unpleasant relative.

A small blue spot marks
Lake Cachuma, created when they
dammed the Santa Ynez, flooded
a valley, divided my father's boyhood: days
he learned to swim the hard way,
and days he walked across the silver scales,
swollen bellies of salmon coming back
to a river that wasn't there.
The government paid those Indians to move away,
he says; I don't know where they went.

In my father's dreams
after the solace of a six-pack,
he follows a longing, a deepness.
When he comes to the valley
drowned by a displaced river
he swims out, floats on his face
with eyes open, looks down into lands not drawn
on any map. Maybe he sees shadows
of a people who are fluid,
fluent in dark water; bodies
long and glinting with sharp-edged jewelry,
mouths still opening, closing
on the stories of our home.

I Am Not a Witness

I found Coyote, Eagle, and Momoy
in a book, but cannot read
the Chumash words. I found
photographs of bedrock slabs pocked by
hundreds of acorn-grinding holes,
but the holes are empty, the stone
pestles that would curve to my grip
lie dead behind museum glass.
Mountains and rivers and oaks rise
in Spanish accents: San Gabriel,
Santa Ynez, Robles.
These are not real names.

Some of our bones rest in 4000 graves
out back behind the Mission.
Some of our bones are mixed into mud
to strengthen cool thick walls
where smallpox and measles came and stayed.
Some of our bones washed down the river
whose name I do not know
past islands I cannot name
to the sea where
I have never sailed.

Mixed-blood, I lay claim by the arch
of my eyebrows, short nose, dark hands.
1 am not a witness. I am left behind, child
of children who were locked in the Mission
and raped. I did not see this:
I was not there—but I am here.
Where is the place that knows me?