Publishing Corner:
ROY COOK NEWS BLOG
THE INDIAN REPORTER
TRIBAL BLOGGERS
Indian Community:
TRIBAL COMMUNITY
PROFILES
OBITUARIES
Science & Wonder
ASTRONOMY PORTAL
KID'S CLUBHOUSE
Indian Heros:
VETERAN COMMUNITY
MEDALS OF HONOR
CODE TALKERS
FAMOUS CHIEFS
HISTORIC BATTLES
POEMS ESSAYS
SPORTS-ATHLETES
MISSION FEDERATION
FAMOUS INDIANS
California Indian Art:
MISSION BASKETS
RED CLAY POTTERY
ETHNOGRAPHIC ART
CAVE ART
MUSIC
CALIE Library:
FEDERAL Resources
HEALTH & MEDICAL
INDIAN BOOK LIST
HISTORICAL Documents
STD Information
Academic Financial Aid:
SCHOLARSHIPS
GRANTS & FUNDING
Tribal Governments:
TRIBAL COURTS
SOVEREIGNTY
SOCIAL SERVICES
TRIBAL DIRECTORY
Indian Gaming:
INDIAN CASINO FORUM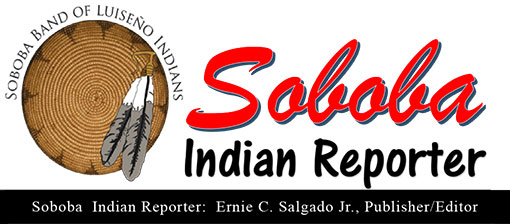 SCAIR HOLIDAY FOOD DRIVE
To Benefit Native American Indian Families


by Ernie C. Salgado, Jr., Soboba Tribal Elder
In keeping with the traditional Christmas spirit of sharing and giving, the San Diego based Not-For–Profit Tribal Organization, Southern California American Indian Resource Center, Inc., (SCAIR) distributed 300 Christmas "Food Boxes" to needy American Indian families living within east San Diego and Imperial Counties.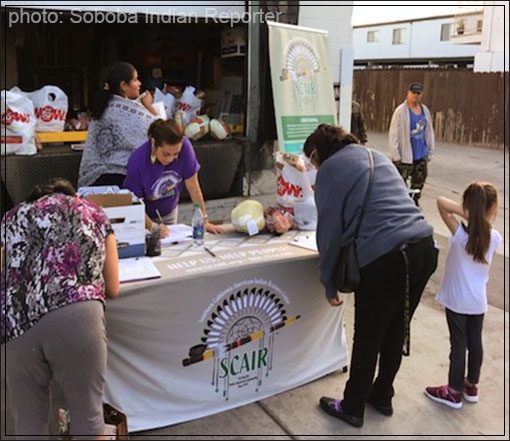 SCAIR shares 300 Christmas "Food Boxes" with needy American Indian families in San Diego and Imperial Counties. Go SCAIR!
The Christmas "Food Boxes" effort was funded by the Northern California Indian Development Council located in Eureka, California.
Also during the month of December a traditional Gathering of Native Americans (GONA) was also held during SCAIR Training.
Participants, along with their families and SCAIR staff, celebrated Christmas with activities at the SCAIR Training Center in El Cajon, CA.
SCAIR Executive Director Wanda Michaelis said that SCAIR plans to expand the sharing of the Thanksgiving and Christmas "Food Boxes" next year to include Easter.
For more information about getting involved with this Native American Indian project, including our many related family-based projects, please CONTACT ERNIE SALGADO.
+++++++
WHO PRODUCED THIS BLOG?


Ernie C. Salgado Jr.
Tribal: Luiseño
Reservation: Soboba Indian Reservation
EDITOR: The Indian Reporter www.theindianreporter.com
Founder: www.californiaindianeducation.org
Web Site: www.apapas.com
CONTACT
RESUME/BIOGRAPHY