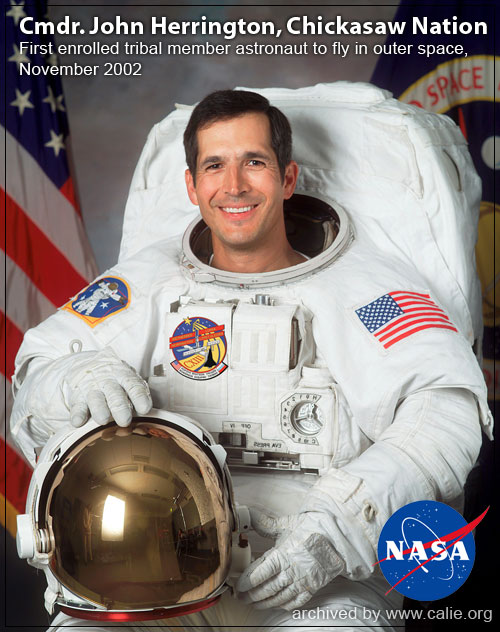 JOHNSON SPACE CENTER, HOUSTON, TEXAS — Official NASA portrait of Commander John B. Herrington, STS-113 Mission Specialist. John Herrington, a Chickasaw American Indian, is the first tribally-enrolled Native American to fly in outer space, he is also the first Native American to walk in outer space. CLICK FOR FULL RESOLUTION NASA PORTRAIT.
FIRST NATIVE AMERICAN INDIAN ASTRONAUT TO FLY IN OUTER SPACE JOHN HERRINGTON
COMMANDER JOHN BENNETT HERRINGTON (born Sept. 14, 1958) is the first tribally-enrolled Native American Indian Astronaut to fly in outer space. During NASA flight STS-113 aboard the Space Shuttle Endeavor in November 2002, Mission Specialist 2 Harrington docked the space shuttle to the International Space Station and became the first American Indian to walk in space during the space mission during the historic #-day NASA space mission.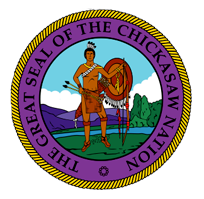 Tribal seal of the proud CHICKASAW NATION.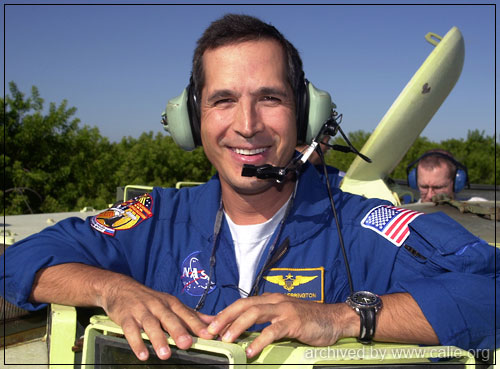 United States Astronaut John Herrington (Chickasaw) pictured on Earth during training in his blue NASA flight suit with STS-113 mission and NASA patches and American Flag.
"What I share with kids is that you can have a dream, you can have struggles, but you can overcome those struggles through perseverance and the right mentors in your lives and (by) making good decisions," John Herrington.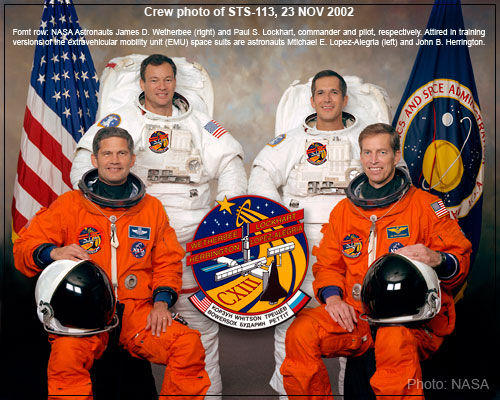 CLICK HERE DOWNLOAD HIGH-REZ NASA CREW PORTRAIT. Official crew photo of STS-113, 23 NOV 2002, Front row: NASA Astronauts James D. Wetherbee (right) and Paul S. Lockhart, commander and pilot, respectively. Dressed in training versions of the extravehicular mobility unit (EMU) space suits are astronauts Michael E. Lopez-Alegria (left) and John B. Herrington, mission specialists 1 and 2.


This is the crew patch for the International Space Station, the NASA STS-113 mission, and the NASA logo. CLICK FOR FULL RESOLUTION PATCH.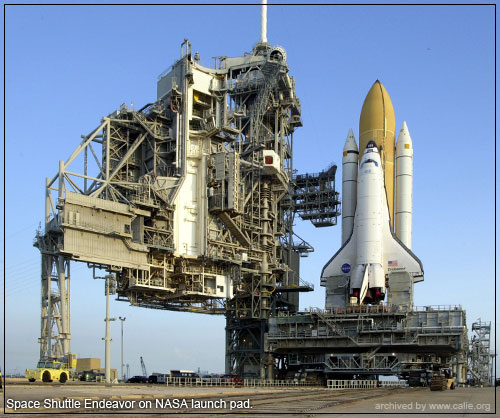 CLICK HERE DOWNLOAD HUGE HIGH-REZ ENDEAVOR ON LAUNCH PAD IMAGE.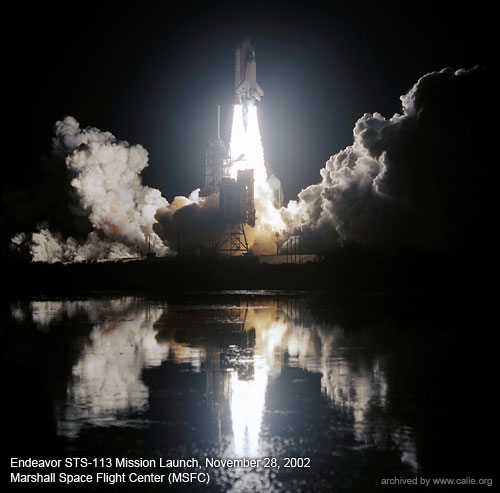 Promoting communi. CLICK HERE DOWNLOAD HIGH-REZ SPACE SHUTTLE PHOTO.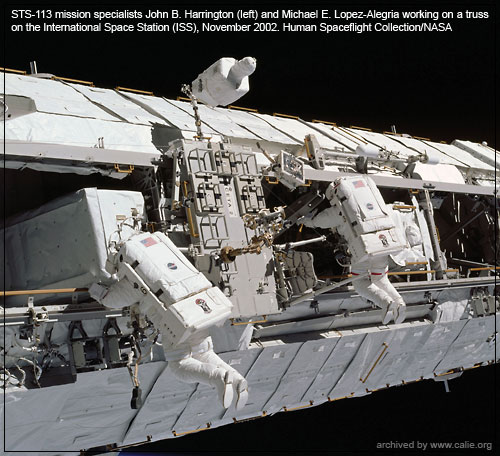 STS-113 mission specialists John B. Herrington (left) and Michael Lopez-Alegria work on a truss on the International Space Station as it orbits the planet Earth, November 2002. CLICK FOR HIGH-RESOLUTION NASA SPACE IMAGE.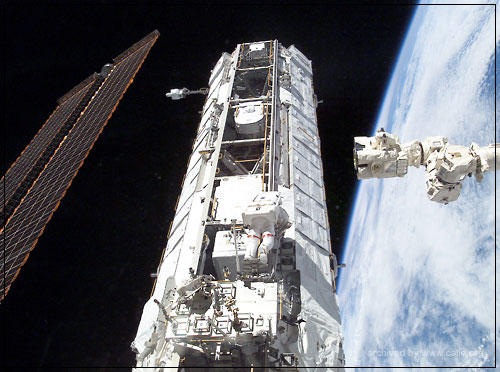 CLICK HERE DOWNLOAD HIGH-REZ NASA SPACE PHOTO.
HISTORICAL NASA MISSION RESOURCES:
OFFICIAL STS-113 MISSION INFORMATION — PDF.
ELECTRONIC PHOTO FILES DOWNLOADS.
WIKIPEDIA research info about John Herrington.
AMERICA.GOV 2002 NEWS RELEASE PDF.
INTERNATIONAL SPACE STATION.
The CHICKASAW NATION.
INTERNATIONAL SPACE STATION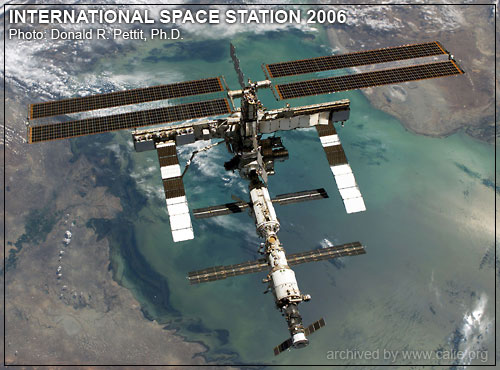 DOWNLOAD HIGH_RESOLUTION INTERNATIONAL SPACE STATION PHOTO. International Space Station photography by Donald Pettit, Ph.D. (American astronaut).


Flags of the nations initially participating in the International Space Station program. (l-r) United States, United Kingdom, France, Denmark, Spain, Italy, The Netherlands, Sweden, Canada, Germany, Switzerland, Belgium, Brazil, Japan, Norway, and Russia.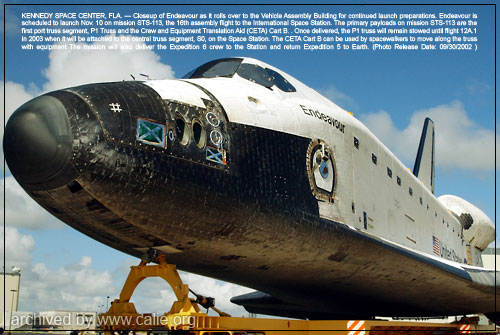 DOWNLOAD HIGH_RESOLUTION ENDEAVOR PHOTO. KENNEDY SPACE CENTER, FLA. — Closeup of Endeavour as it rolls over to the Vehicle Assembly Building for continued launch preparations. Endeavour is scheduled to launch Nov. 10 on mission STS-113, the 16th assembly flight to the International Space Station. The primary payloads on mission STS-113 are the first port truss segment, P1 Truss and the Crew and Equipment Translation Aid (CETA) Cart B. Once delivered, the P1 truss will remain stowed until flight 12A.1 in 2003 when it will be attached to the central truss segment, S0, on the Space Station. The CETA Cart B can be used by spacewalkers to move along the truss with equipment The mission will also deliver the Expedition 6 crew to the Station and return Expedition 5 to Earth. Photo Release Date: 09/30/2002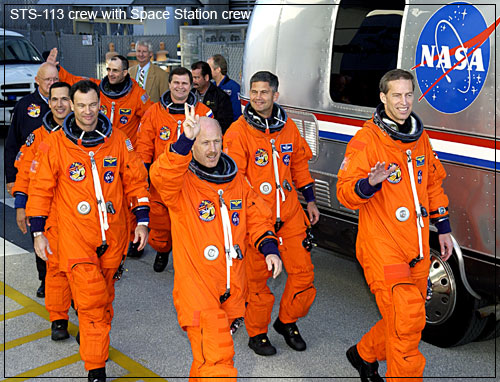 STS-113 NASA Astronauts on Earth with Space Station crew likely just before launch or just after landing (Cmdr. Herrington pictured far left) in his orange flight suit.
SEE CALIE's FAMOUS NATIVE AMERICAN INDIANS.
Page created by Webmaster on February 1st 2010, last worked on Feb 5th.