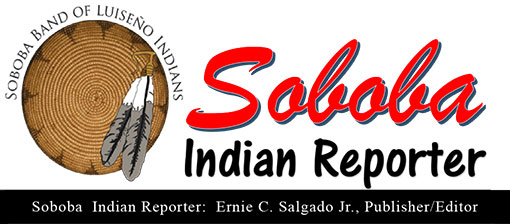 Frank Red-Bow Basquez Gallerito, USN
Completes Basic Training & Begins Advanced Naval Electrician Schools in San Diego Fleet


by Ernie C. Salgado, Jr., Soboba Tribal Elder
Frank Basquez-Gallerito completed his Basic Training at the Great Lakes Naval Station in Illinois near Waukegan, IL located on the north side of Chicago.
He is currently stationed in San Diego where he is receiving advanced training as a Navy electrician.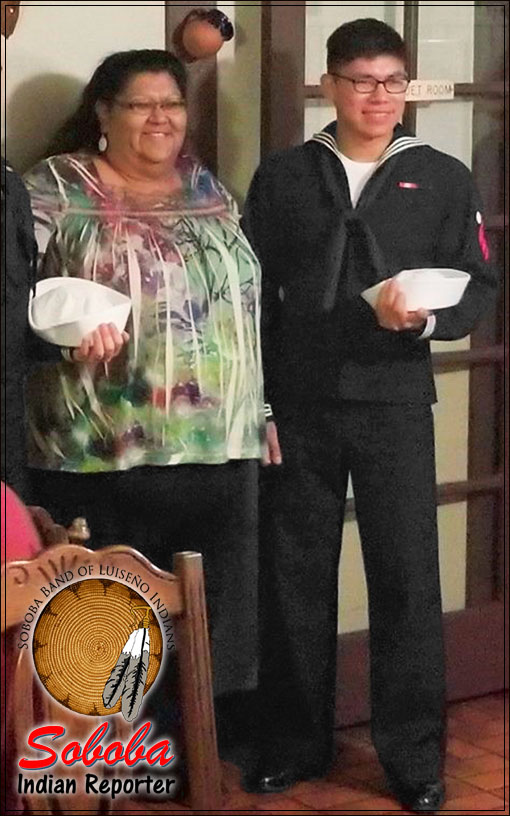 Mia Basquez-Gallerito took a photo with her son, Frank Red Bow Basquez-Gallerito in uniform.
The young sailor comes from a military family.
Frank's grandfather, Tony Basquez (Pechanga), served in the U.S. Marine Corps during the Korean Conflict and his great uncle, Marcus "Mac" Mojado, served in the U.S. Navy during World War II. A cousin, Elizabeth (Basquez) Kolb, served in the U.S. Army Color Guard as a bugler.
Mia and her husband, Frank Bow are extremely proud of their son and rightfully so.
We are also proud of Frank and may God watch over him and keep him safe.
MILITARY FAMILY NOTES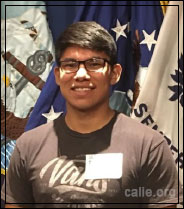 Frank Red Bow Basquez-Gallerito, the 19-year-old son of Mia and Frank Bow Basquez-Gallerito, is scheduled to complete his Naval basic military training (boot camp) around the middle of May 2017.
The young recruit is undergoing his basic training at the Great Lakes Naval Station in Illinois.
Frank enlisted in the United State Navy on September 14, 2016. He took the oath of military service at the Military Entrance Processing Station in San Diego. He enlisted for eight-years of active duty and three-years of reserve service time. When asked why he enlisted for eight-years of active duty as apposed to the normal four-years.
He reported for active duty at the U.S. Naval Base in San Diego on March 16, 2017. Although he enlisted in September 2016 his date for reporting for active duty was delayed by the Navy since he was enrolled with the Southern California EMS Training institute in Murrieta.
He will complete his basic training around the middle of May 2017 at the Great Lakes Naval Station in Illinois adjacent to Waukegan, IL on the north side of Chicago.
Upon completion of his eight-weeks of basic training he will begin his Military Occupational Specialty (MOS) training as a certified electrician.
Frank graduated from San Jacinto High School on June 9, 2016. During his four-years of high school he participated in the Junior Reserve Officers' Training Corps (JROTC) pro-gram.
Frank is the middle child of five siblings. He spend the first 15-years of his life on the Mescalero Apache Indian Reservation in New Mexico where he is an enrolled tribal member. The Mescalero Apache reservation is also the home of many of the blood relatives of the famous Apache warrior, Geronimo.
However, he has deep family roots with the Soboba Indian Reservation in Southern California.
The Basquez-Gallerito family moved to the Soboba reservation in 2012. However, his mother, Mia, said she made sure they came home every summer.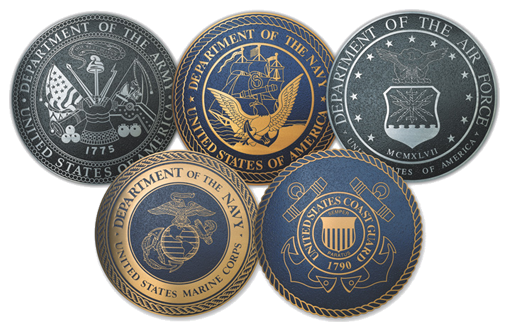 VISIT CALIE'S ONLINE NATIVE AMERICAN INDIAN VETERANS' PORTAL for jobs, family services, education, crisis hotlines, burial information, medical benefits...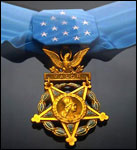 NATIVE AMERICAN MEDAL OF HONOR RECIPIENTS: The Medal of Honor is the highest U.S. military decoration awarded to individuals who, while serving in the U.S. armed services, have distinguished themselves by conspicuous gallantry and courage at the risk of life, above and beyond the call of duty...


VETERANS DAY, HONORING SOBOBA MILITARY
by Ernie Salgado, Soboba Tribal Elder
Soboba Tribal members have served in the armed forces of the United States in every war and conflict since WWI ... It is estimated that over 80 million people were killed during the seven years of WW II. U.S. military records indicate their were 670,846 Americans wounded and 405,399 lost their lives, three of which were Tribal Members of the Soboba Band of Luiseño Indians...


U.S. Army Airborne — historical look back at American special forces history, picture gallery, videos, multimedia...
+++++++
WE WANT YOUR NEWS!
CONTACT ERNIE SALGADO by email




Ernie C. Salgado Jr.
Tribal: Luiseño
Reservation: Soboba Indian Reservation
EDITOR: The Indian Reporter www.theindianreporter.com
Founder: www.californiaindianeducation.org
Web Site: www.apapas.com
CONTACT
RESUME/BIOGRAPHY