SOBOBA INDIAN RESERVATION 2010 — "49 CHUB" a classic low rider convertible, unbelievable paint color, SOUTH SIDE AXLE DRAGGERS club car, gangster sidwalls, cherry convertable, '40s car memorabilia.
SOBOBA 3rd ANNUAL CAR SHOW "Drifting On A Memory"
SAN JACINTO, CA, Sept. 12, 2010 — The Soboba Casino held its third annual Low Rider Car & Bike Show on the Soboba Indian Reservation and the large cash prizes brought out the top professional and amateur custom car clubs in Southern California, USA.
If you like classic sunny summer days, hot cars, beautiful automobiles, motorcycles, bicycles, live entertainment, good food, and lots of cold hard cash being spread around, then Soboba was definitely the place to be for Soboba-style family entertainment in Riverside County.
Soboba tribe promotes family values — drugs and alcohol are strictly prohibited. Bad attitudes will not be tolerated. Drifting On A Memory Car & Bike Club and its affiliates and/or sponsors are not responsible for any theft, damage or fire to any entries.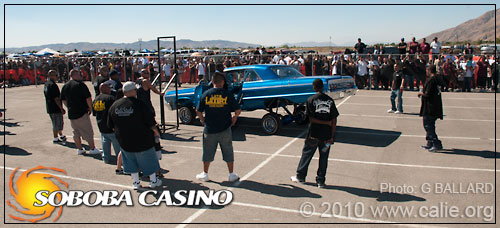 A huge turnout of guests circled the fenced-in exhibition area and enjoyed a variety of car maneuvers, including a competitive hopping contest — a classic blue Chevy, Latin Luxury Car Club and Cali Style Low Riders are pictured in this Southern California bouncing-hopping picture.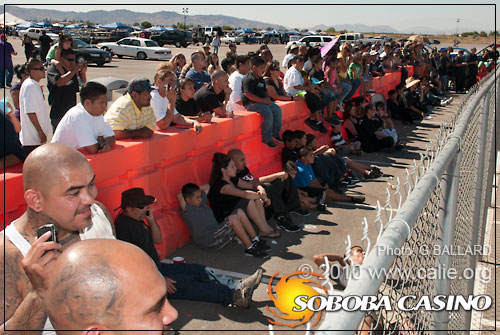 Guests enjoyed the live performance exhibitions during the Soboba car show.
A group of young Hemet men and women enjoyed the live portion of the competition from their raised truck bed.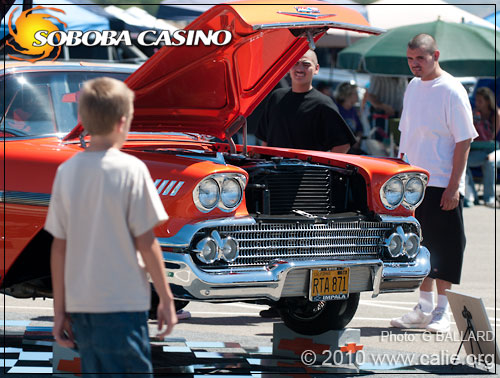 Beautiful 1958 Chevy Impala, orange.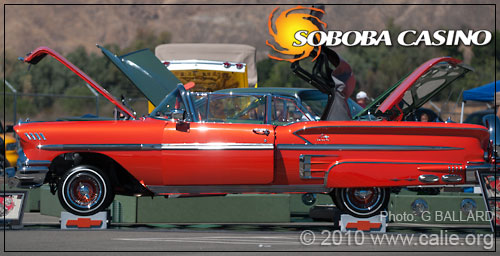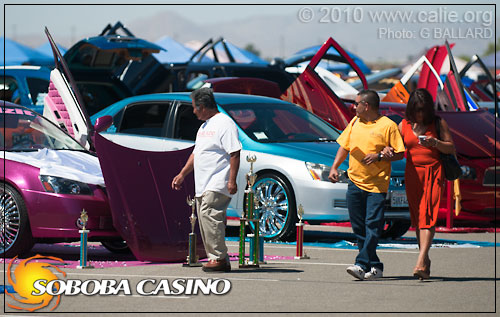 The reservation resembled a car lot and visitors were treated with up close and personal looks at some of the finest award-winning cars on the West Coast.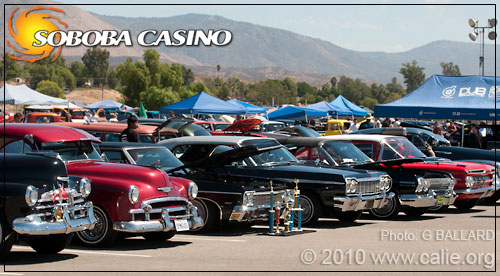 A huge assortment of world-class classic American automobiles were on hand.
Live entertainment included famous SOCAL rappers and popular deejay artists took the stage and handed out their music CDs to the audience.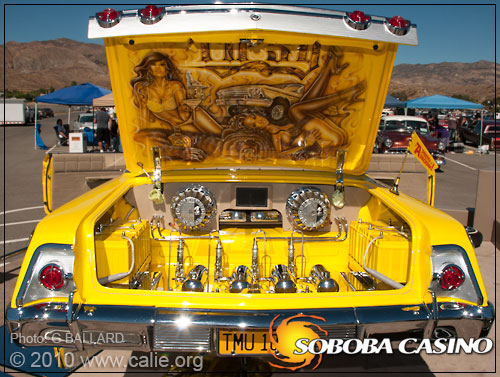 Imperials Car Club FACEBOOK had several entries, including the tricked out custom ride in chrome and bright yellow.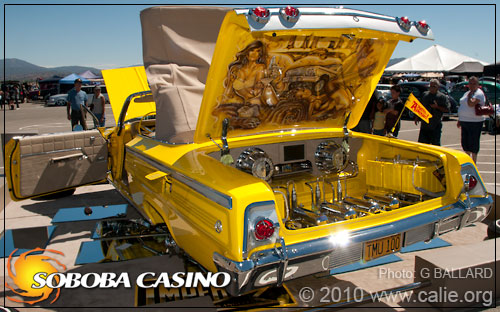 Imperials is based in Los Angeles, CA. The webmaster doesn't understand all that junk in the trunk, but it looks first rate and classy.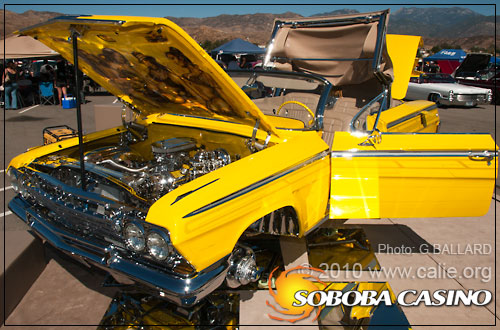 The Imperials had some of the finest custom car exhibits at the Soboba car show.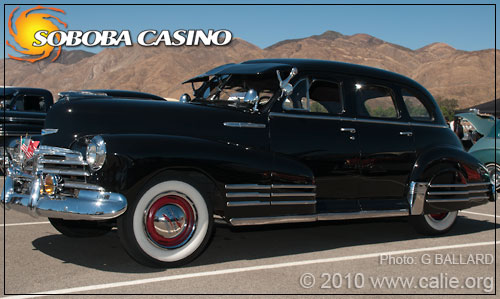 A midnight black 1948 Chevy Style Master.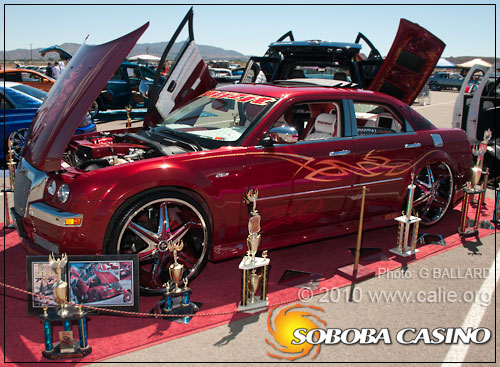 Red highly customized 2007 Chrysler 300 looks like an awarding winning car featured in magazines and advertising, XPLICIT car club FACEBOOK.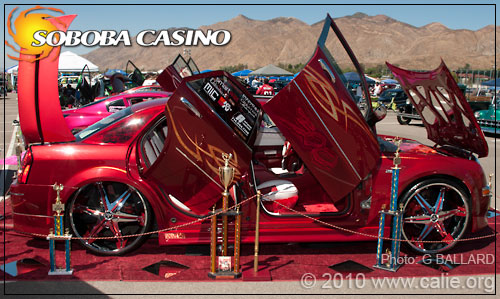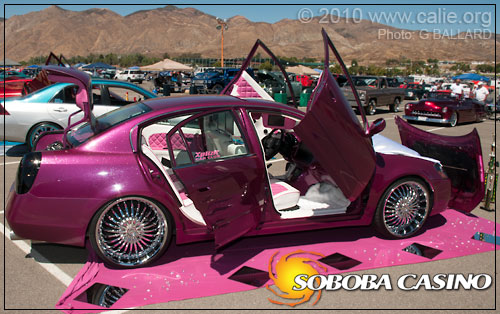 Another awesome custom job from XPLICIT.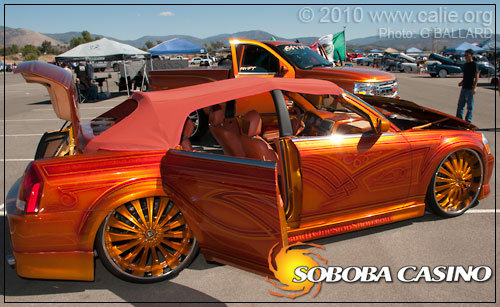 www.eandionestopshop.com showcased this modern hot rod convertible.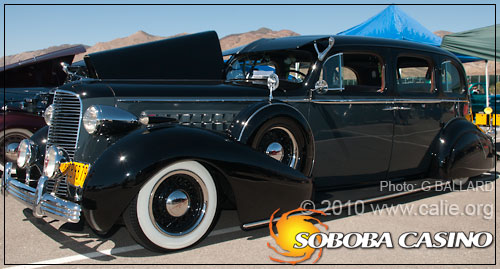 1940s classic Cadillac in black.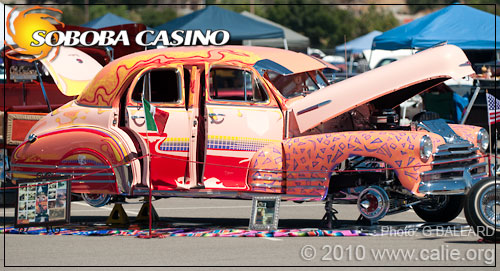 47 Mirage, 1947 Chevrolet Fleetline, sported a brilliant paint job, CITY CRUISERS, Coachella Valley, CA.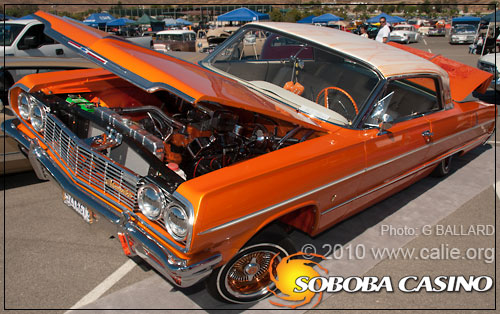 Chevy Impala 1964.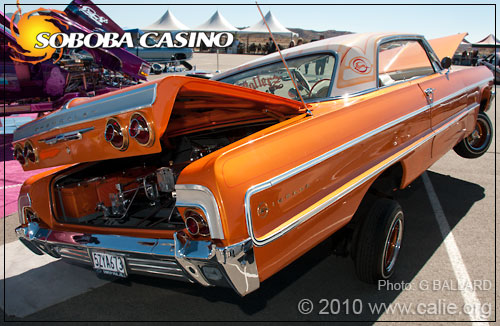 Awesome Chevys, orange-white 64.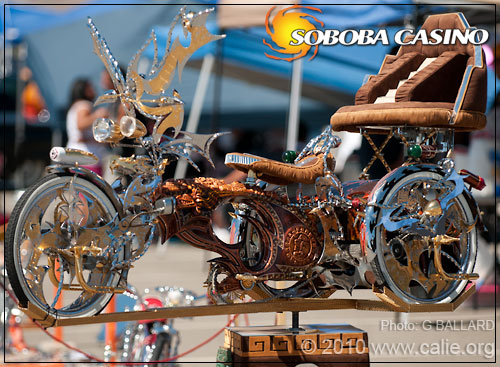 There was a large row of customized bicycles.
Lo Nuestra Chevy Fleetline.
GAME OVER Cadillac famous Southern California cars.
The custom detail on this customized Southern California Cadillac show car is unbelievable.
Some of the professional trophies stand waiting for the awards. Top prize winners shared $10,000 in cash prizes.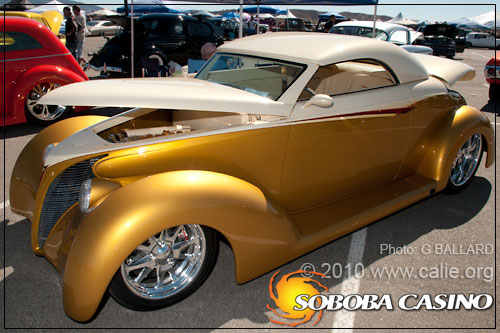 SOCAL custom car competition was very competitive and featured the best California cars in America.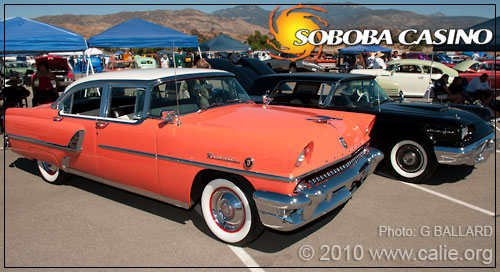 Soboba classics like these vintage Montclair and Thunderbird cars made for stiff competition at Soboba.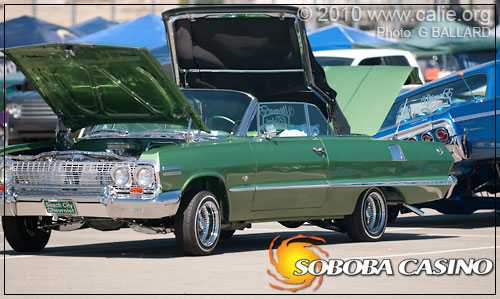 ULTIMATE RIDERS club car green Chevy.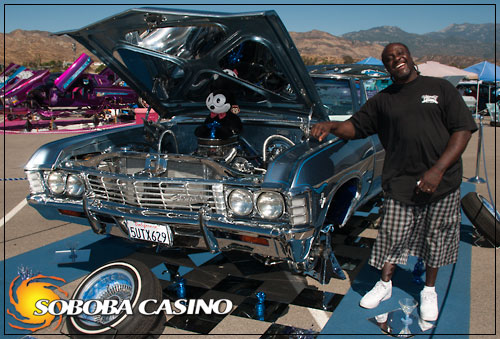 ULTIMATE RIDERS blue Chevy '60s classics.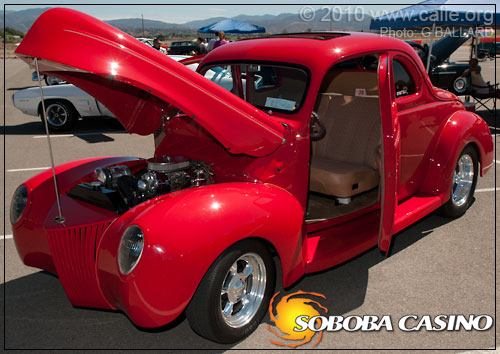 Customized 1939 Ford coupe, red, silver mag wheels.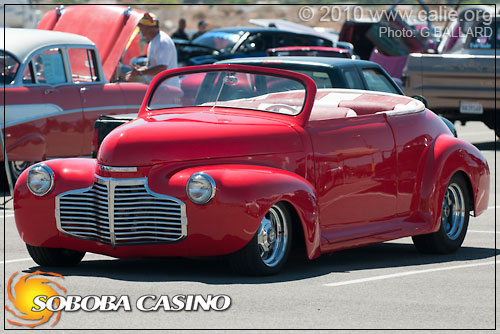 Classic American cars in Southern California, Riverside County.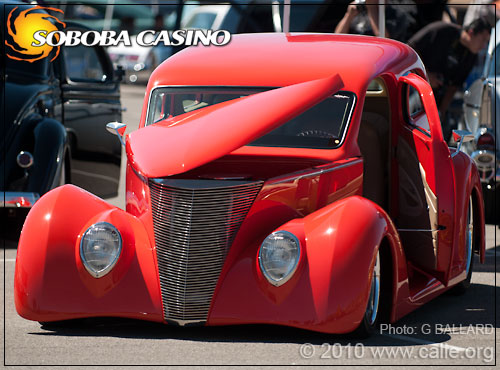 Total custom cars.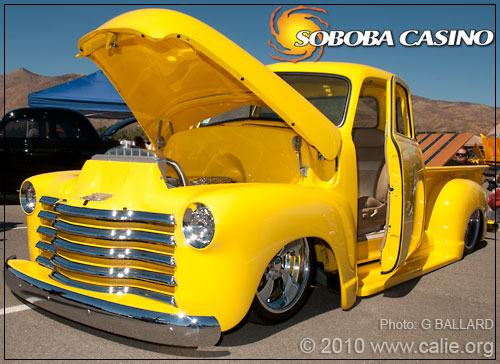 Classic American yellow pick up truck, lowered.
Soboba Casino family entertainment venue.
Poster archive: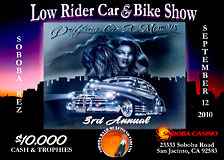 LOW RIDER CAR & BIKE SHOW (poster/registration form PDF)
$10,000 Cash and Trophies
SOBOBA CASINO
September 11-12, 2010
+++++++
Please CONTACT US if you have information or links to add or correct, or if you have any photos you want to add (or remove).
+++++++
More classic Soboba pictures:


Ernie Salgado 89th Birthday Pictures.
WHO PRODUCED THIS BLOG?


Ernie C. Salgado Jr.
Tribal: Luiseño
Reservation: Soboba Indian Reservation
EDITOR: The Indian Reporter www.theindianreporter.com
Founder: www.californiaindianeducation.org
Web Site: www.apapas.com
CONTACT
RESUME/BIOGRAPHY
PUBLISHED ARTICLES
PROFESSIONAL WEB BLOG SERVICES AND PHOTOGRAPHY BY CALIE WEBMASTER GARY G. BALLARD PORTFOLIO.