TRIBAL TANF Awards at Viejas
VIEJAS INDIAN RESERVATION, September 20, 2010 — The Southern California American Indian Resource Center, Inc. (SCAIR) and the Southern California Tribal Chairmen's Association, Inc. (SCTCA) held their 2010 Annual TANF Awards and Recognition Celebration in the Viejas band's DreamCatcher theater.
The San Diego area community tribal event is funded by the SCTCA Urban Tribal TANF Program. SCAIR is a 501 (C)(3) not-for-profit Corporation and TANF Career Training provider. SCAIR Career Training Activities provide respectful drug- and alcohol-free family programs available to reservation and urban based Native American Indians in Southern California.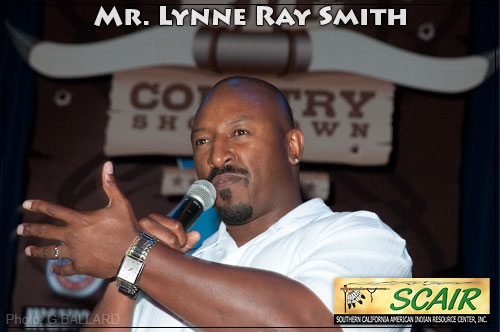 MASTER OF CEREMONIES — Southern California Tribal Chairmen's Association SCTCA San Diego TANF Site Manager Lynne Ray Smith addressed the Southern California tribal TANF community at Viejas Indian Reservation.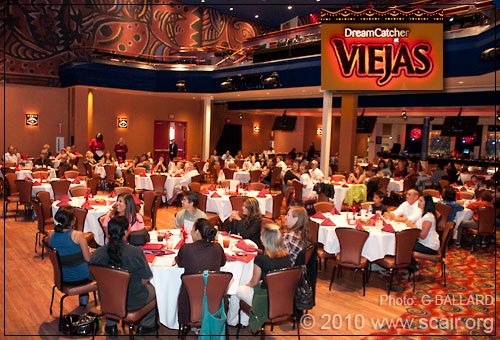 The TANF awards ceremony was held inside the beautiful Viejas DreamCatcher theater-lounge, and was catered by the Viejas Casino professional staff.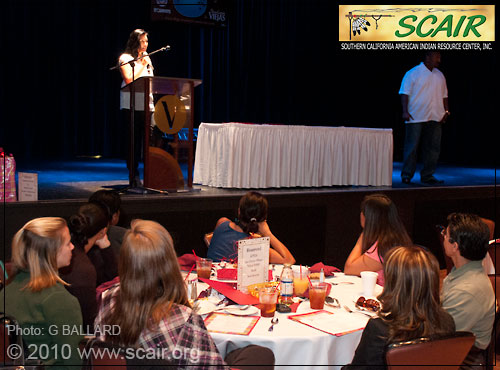 The SCTCA employees' table is pictured in the foreground during the keynote address.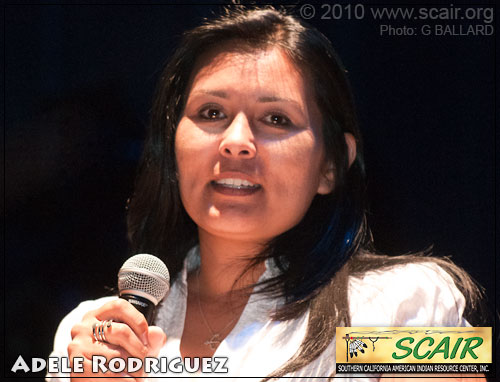 INSPIRATIONAL SPEAKER — Adele Rodriguez was the keynote speaker and she talked about her long association with the Southern California Tribal Chairmen's Association SCTCA as a TANF employee.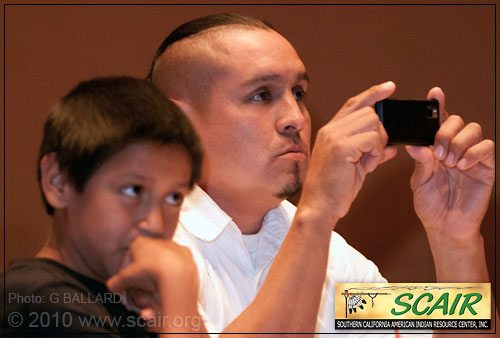 Adele's husband and young son were on hand and were taking lots of video and pictures.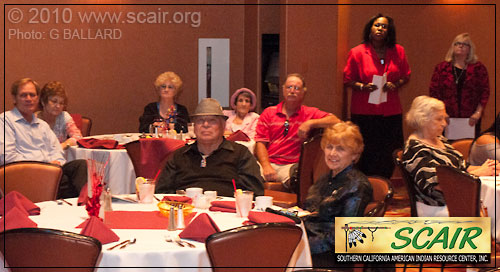 Community elders, SCAIR executives and staff pictured taking in the keynote speech.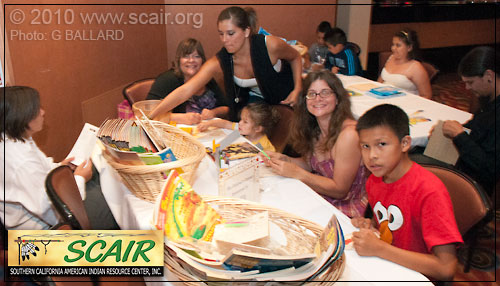 CHILDREN'S CORNER — The children had a couple tables of crafts in a special corner to keep them learning.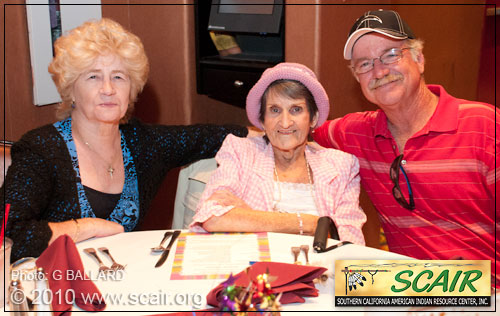 VIP guests posed for a snapshot at their table.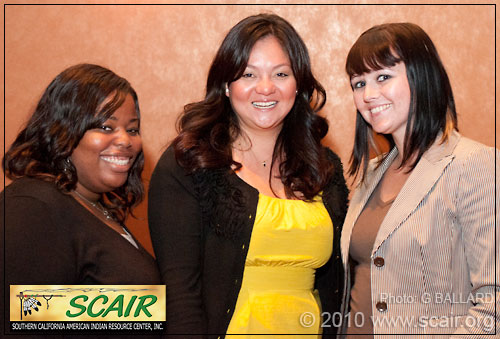 Young female SCAIR interns posed for a candid photo.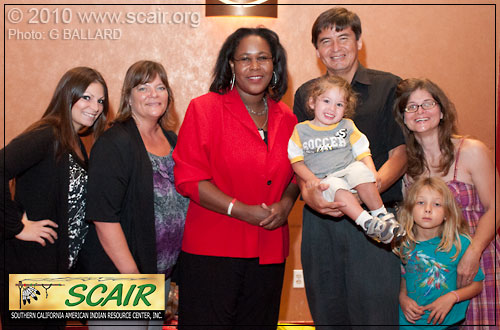 STAR STUDENTS — SCAIR teacher Desiree Stevenson (Microsoft office instructor) poses with several of her "star students."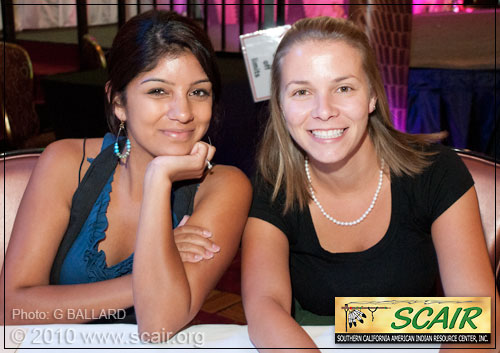 Girls manning the official program Registration table took a photo for their picture blog.
INDIAN EDUCATION AWARDS & RECOGNITION:
INDIAN EDUCATION AWARDS:
San Diego Tribal TANF Recognition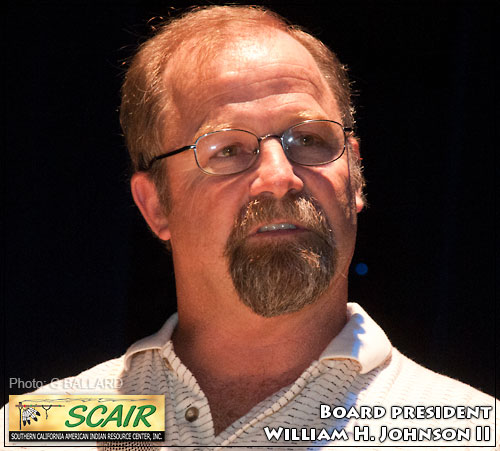 SCAIR Board President William H. Johnson II addressed the crowd and honored Randy and Bonnie Edmonds with a special Spirited Lifetime Award that featured a magnificent Indian flying eagle sculpture.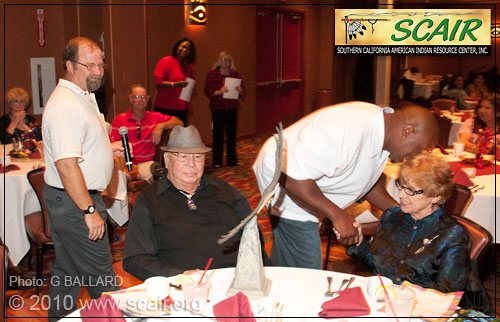 President Johnson presented the award at the Edmonds table and Lynne Smith congratulates Bonnie in this award photo.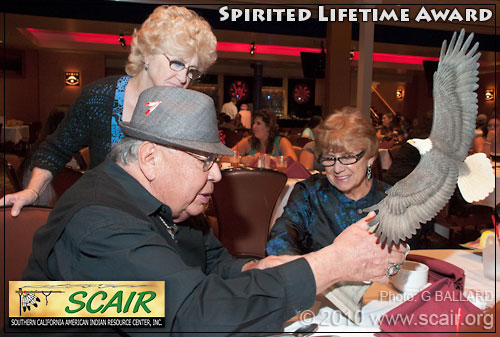 A SCAIR board member looks on as Mr. Edmonds reads the SCAIR inscription on his and his wife's award:

Randy and Bonnie Edmonds (biography)
Spirited Lifetime Award
Together You Warrior the Native American Spirit
Creating Bridges of Sameness that Unite Us
Your Weapon is Education Teaching, Inspiring,
Protecting the Ancestral Native American Culture
As Teachers and Role Models You Walk The
Path of Two Worlds Protecting Tradition
We Respectfully and Lovingly Honor You and
Your Gracious Commitment to Our People.
Southern California American Indian Resource Center, Inc.
September 20, 2010
San Diego urban Indian families receive SCAIR achievement awards.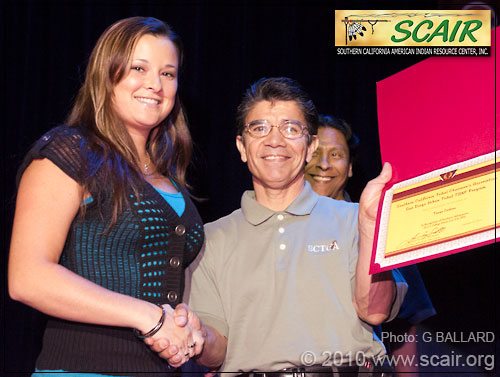 Tanya Cadena, in Recognition of Academic Achievement 2010 College Deans List 3.6 GPA. SCTCA Case Worker Eddie Perez is the presenter.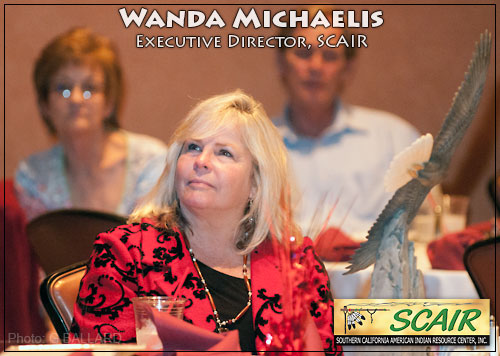 SCAIR Executive Director Wanda Michaelis looks on during the awards presentations.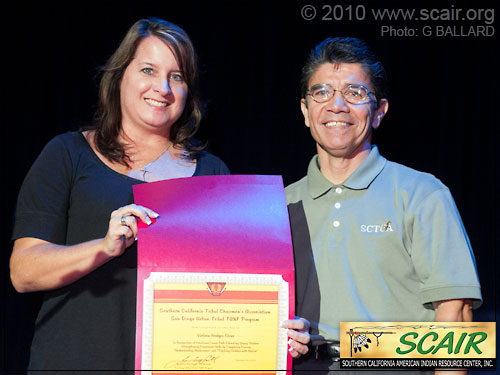 Victoria Hodges-Ozier, in Recognition of Vocational Career Path Educating Young Children, Strengthening Vocational Skills by Completing Courses "Understanding Adolescence" and "Teaching Children with Autism."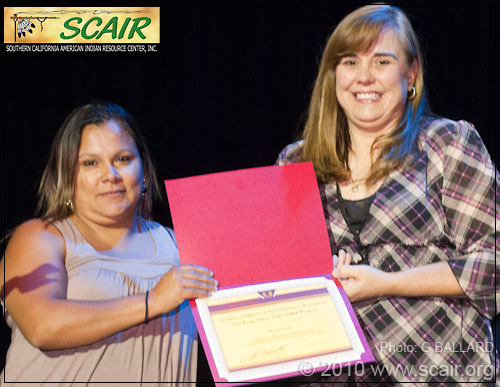 Monica Gomez, in Recognition of Completion of Medical Assistant Vocational Education of United Education Institute, San Diego.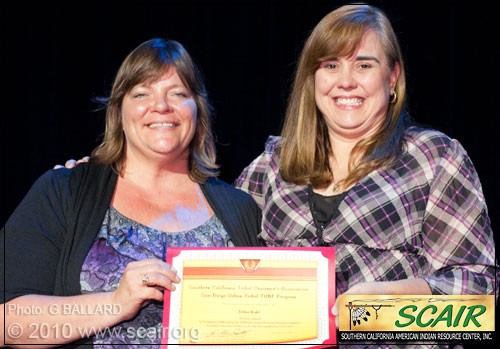 Debra Kuhl, "Ferocious Award" in Recognition of Managing Life Challenges, Dental Assistant Training Completion at United Education Institute at the top of her graduation 2010 class.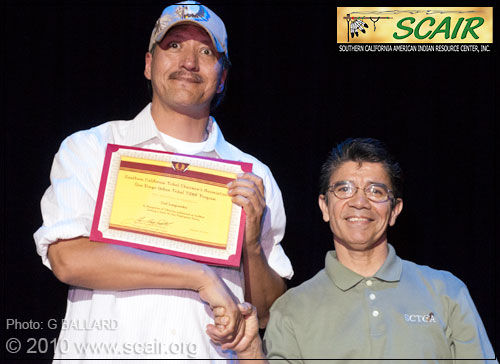 Carl Longenecker, in Recognition of Obtaining employment at Walmart, Earning a Great 90 day Employment Review.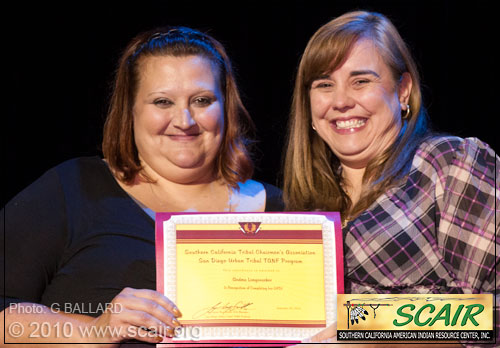 Andrea Longenecker, in Recognition of Completing her GED!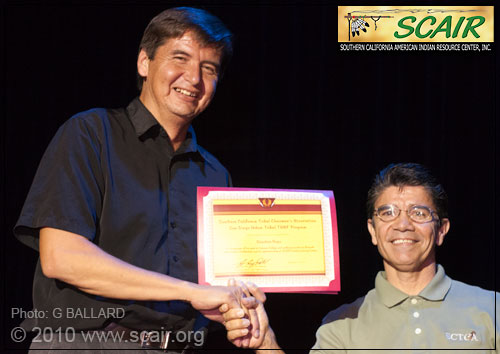 Benedicto Reyes, in Recognition of his work at Coleman College and working towards his Network Administrator Certification and his apprenticeship at SCAIR Family Learning Center.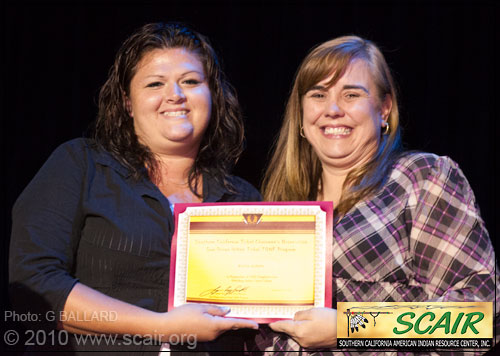 Kristin Webster, in Recognition of GED Completion and Attending Valley Career College.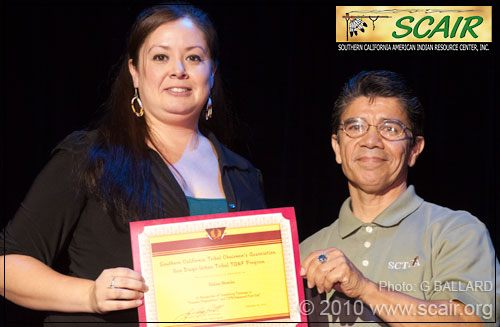 Ralina Morales, in Recognition of Completing Training in "Disaster Preparedness" and "CPR Advanced First Aid."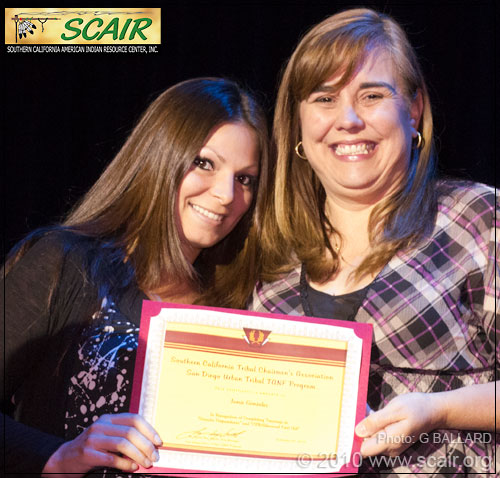 Jammie Gonzales, in Recognition of Completing Training in "Disaster Preparedness" and "CPR Advanced First Aid."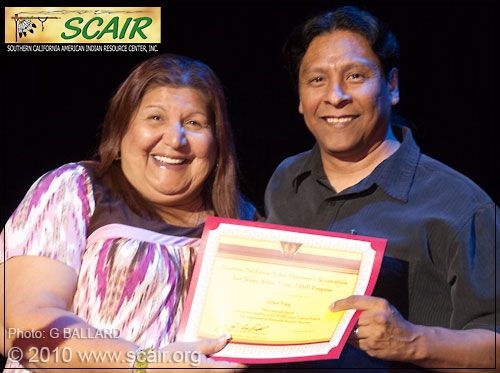 Arlene Poag, "Most Improved Award" Excelling at SCAIR Career Training and working at her current job — SCTCA Career Development Specialist Richard E. Henley is the presenter.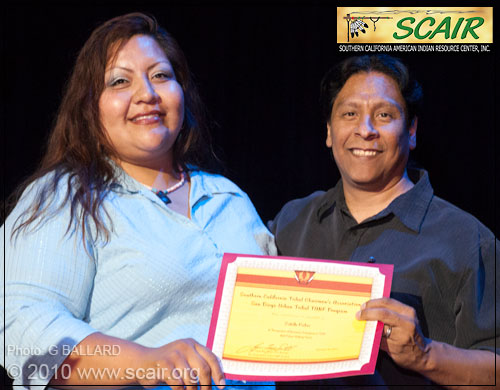 Estelle Fisher, in Recognition of Business Entrepreneur Skills and Future Bakery Owner.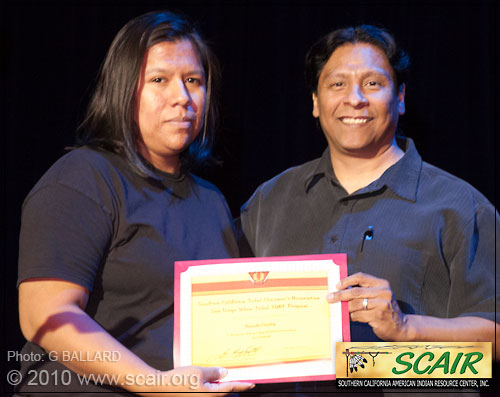 Amanda Charley, for Completing Mesa College Dental Assisting School, Graduate 2010.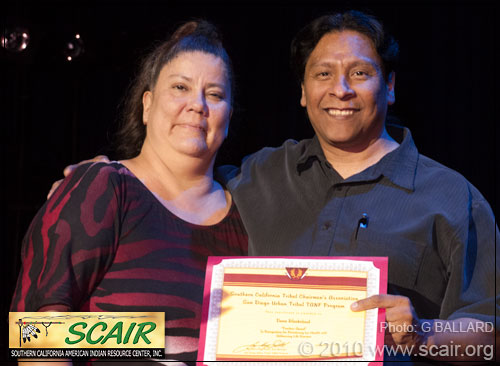 Dana Blackcloud, "Fearless Award" in Recognition for Prioritizing her Health and Addressing Life Barriers.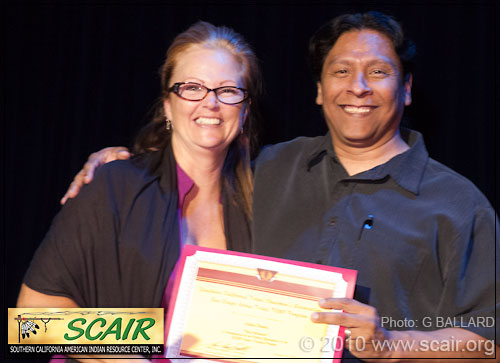 Vicki Rivera, for "Most Motivated" Perfect Attendance in completing hours.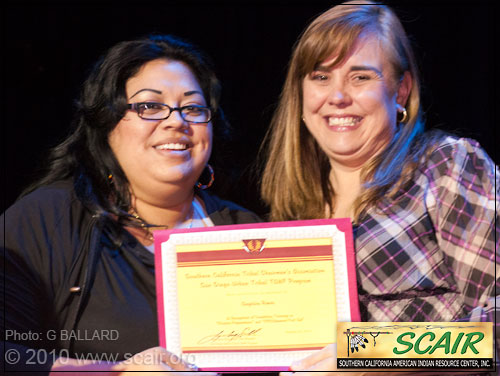 Angelina Rivera, in Recognition of Completing Training in "Disaster Preparedness" and "CPR Advanced First Aid."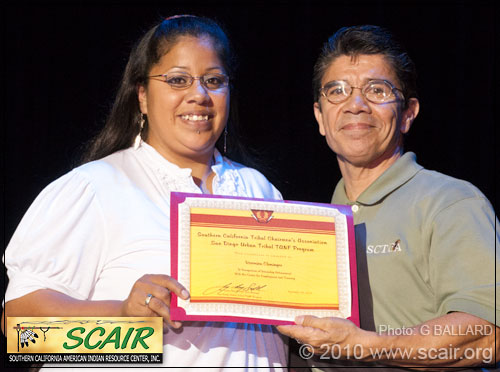 Veronica Cloninger, in Recognition of Internship Achievement With the Center for Employment and Training.
As you can see from the successful American Indian faces smiling, SCAIR Tribal TANF students worked hard and their families are very proud of their academic achievements.
SCAIR TESTIMONIALS
TANF participants surprised the staff with some unexpected heartfelt SCAIR TESTIMONIALS in recognition of their grateful appreciation.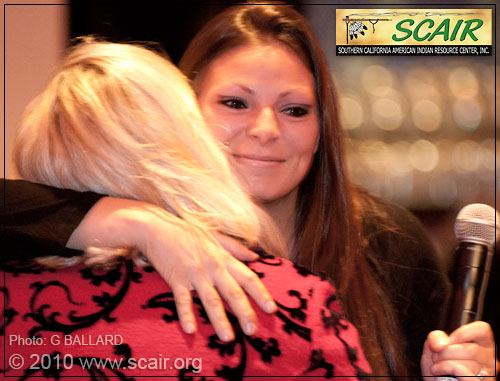 With tears of grateful appreciation welling in her eyes, Jammie Gonzales gives SCAIR Executive Director Wanda Michaelis a hug during her testimonial.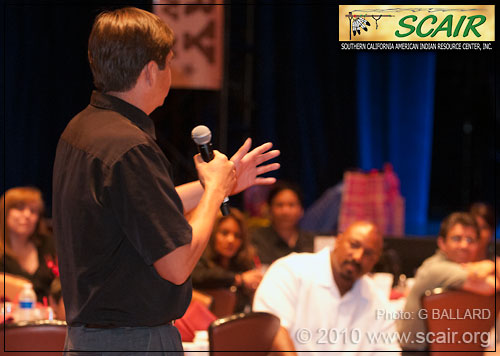 Benedicto Reyes thanks the TANF SCAIR and SCTCA staff.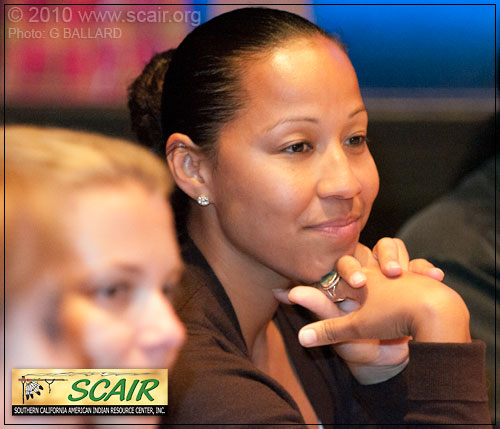 SCTCA Eligibility Specialist Sophia Taula-Lieras (Umatilla/Nez Perce) listens to a compelling student testimonial — the pride and satisfaction showing in her face of seeing her program participants doing well.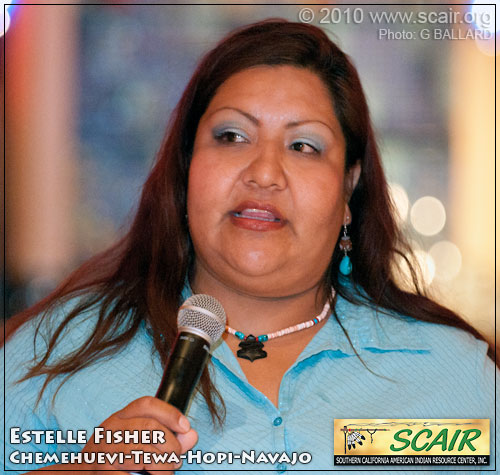 Estelle Fisher (Chemehuevi-Tewa-Hopi-Navajo), gave her testimonial — a very compelling story as a single young Indian mother in San Diego whose life was changed through her participation in the SCTCA and SCAIR tribal TANF programs.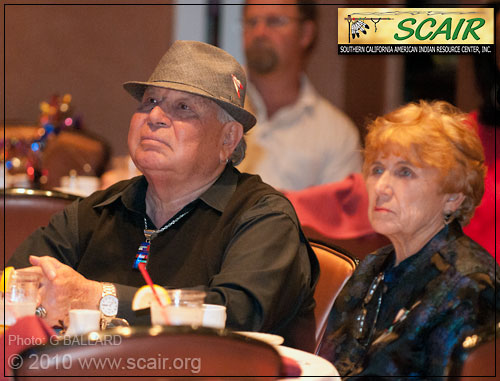 Mr. and Mrs. Edmonds listened closely to the young Native American people tell their real-life stories of hardship, struggles and success in the Great Recession and how SCTCA and SCAIR have thrown them and their families a lifeline and helped change their lives.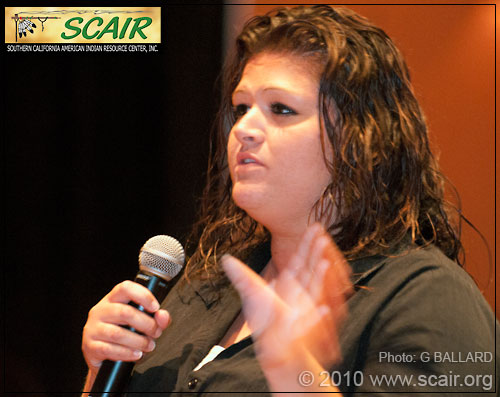 Kristin Webster shared her Tribal TANF experience and thanked the staff, teacher and community.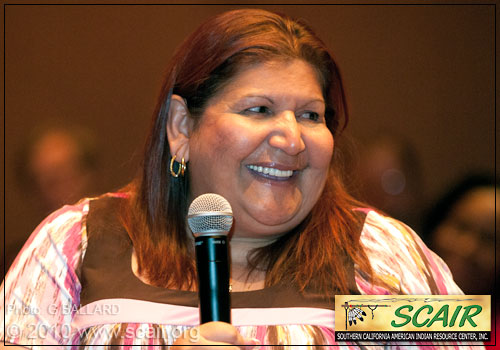 Arlene Poag: Thank you, thank you, thank you....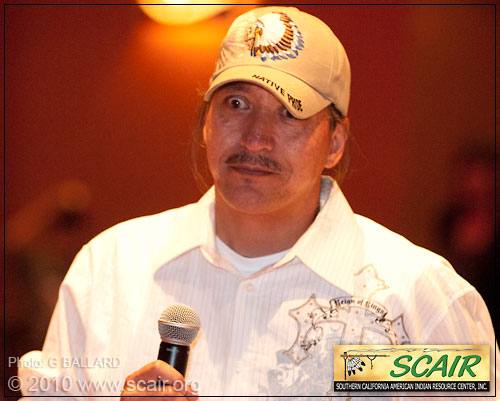 Carl Longenecker told his story about how he found SCAIR TANF services and how the Tribal TANF services are affecting his life in San Diego County.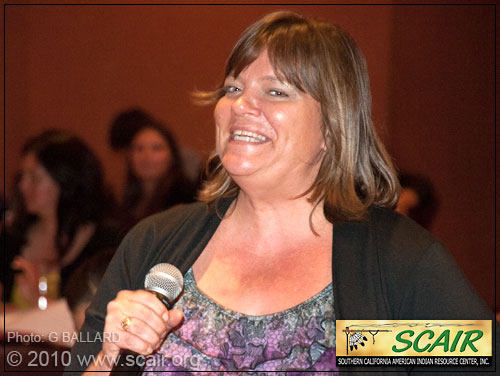 Debra Kuhl took the microphone and thanked the SCTCA and SCAIR program leaders and staff.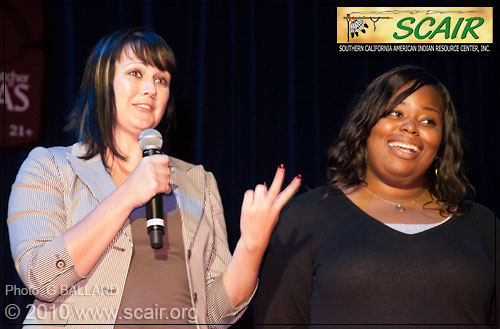 NATIVE TEEN TALK — Two young SCAIR interns from the University of San Diego stepped up on the Viejas stage and talked about the new SCAIR Native Teen Talk program they are staffing up for SCAIR TANF tribal teens.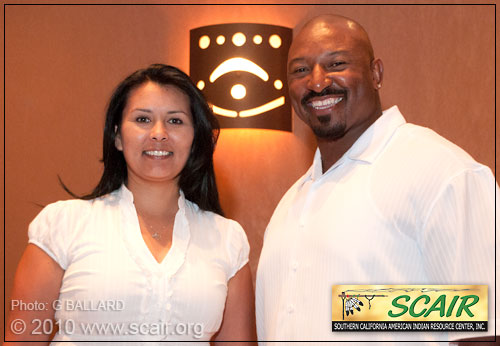 Lynne Ray Smith took a picture with his co-worker, Adele Rodriguez.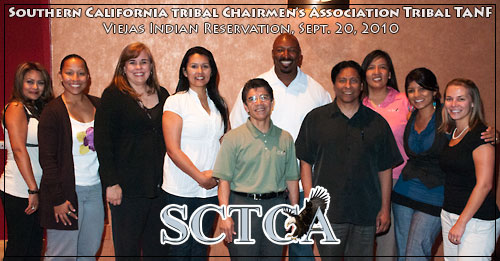 SCTCA staff.
SCAIR staff.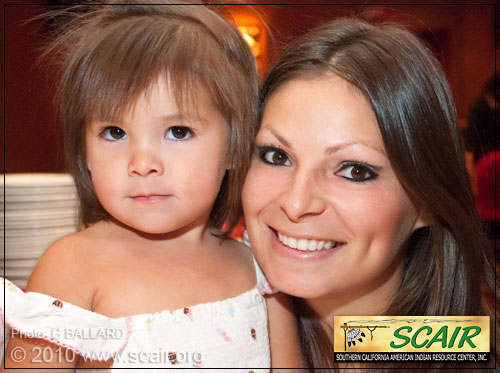 A mother took a photo with her young daughter.
+++++++
SEE LAST YEARS TANF AWARD PHOTOS Featuring "Soaring Eagles Live at Viejas"
PROFESSIONAL CALIFORNIA INDIAN COMMUNITY BLOG BY GARY G. BALLARD.