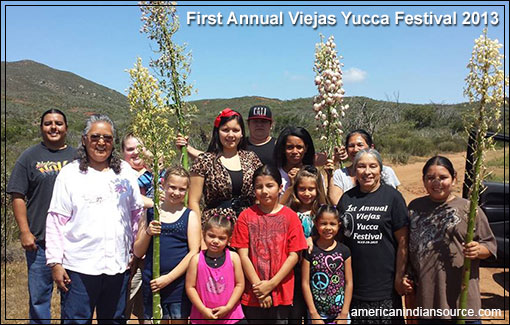 FIRST ANNUAL VIEJAS YUCCA FESTIVAL 2013
by Roy Cook, Opata-Oodham, Mazopiye Wishasha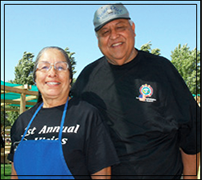 On May 18, 2013, from noon to 7pm or so, the first Yucca Harvest celebration was held at the Viejas Tribal Culture grounds.
The Yucca plant is and has been a multi-purpose plant for the Southern California and greater western Native American people for thousands of years. This day the food value of the yucca blossoms are prepared in the traditional way and offered to the many residents of the Viejas reservation and visitors to this worthy event.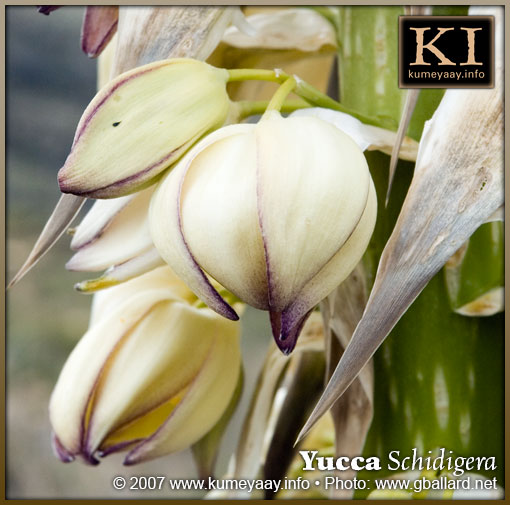 Click for the Kumeyaay Southern California Indigenous Plant Guide...
Activities for all ages have been taken into consideration: children games of matched competing and carnival rides and water playground fun is in constant use over the warm afternoon. The hotdogs, hamburgers and cool drinks lunch is generous and in keeping with the summer outing of the day.
Earlier the collection and preparation of the yucca took place on the reservation under the instruction of Virginia Christman, a former Council member and culture bearer treasure of the Viejas tribe.
Traditionally, the Kumeyaay collect - sha'aa - in March and April, the stem is pealed roasted, and eaten; blossom is boiled and also eaten. With the correct preparation the Yucca blossoms are most tasty and can be utilized in a variety of delectable dishes.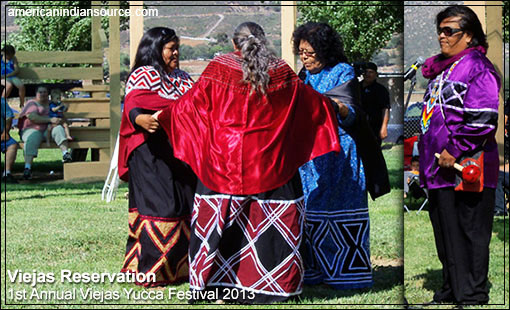 Visitors from the Colorado River, local reservation bands and urban Kumeyaay attended this event. There is a good sized group of Soaring Eagle parents and children making friends and enjoying the entertainment of the day.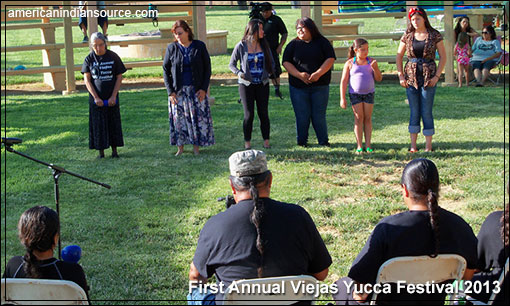 Local Viejas bird singers, friends and children formed a singing line under the lead singer, Ron Christman. Young ladies, visitors and very experienced dancers formed the responding dancer line facing the singers. Ron led his group in a spirited and traditional selection of fine songs. It was a treat and joy to be a part of the singer's row. All the while, Ron kept up a teaching description of the local history of the resurgence of the traditional Tipai culture and Bird singing. After a long but not long enough, session of songs the cry went out for everyone to line up for Yucca selections and Kumeyaay Indian Fried bread with all the fixings. All was very, Viejas yummy! Cool drinks and a chance at seconds on the yucca were available for all to experience.
Finally, as the sun was setting and the totally soaked kids started to shiver, a last short set of four or more songs were sung for all our relations near and dear to our hearts and memories. Mehan, Royboy.
Back to Roy Cook's Articles page.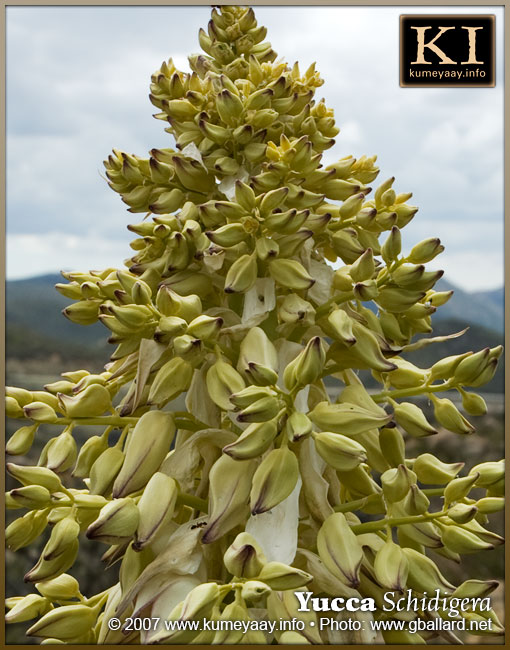 Professionally photographed Yucca Schidigera plant in full bloom near the Viejas Indian Reservation.
And still more CALIE cultural projects under development:


NATIVE AMERICAN VETERANS PORTAL — CRISIS HOTLINES, HEALTH CARE, HOUSING & DISABILITY BENEFITS, EMPLOYMENT, BURIALS, STATE & FEDERAL PROGRAMS...

FAMOUS INDIAN CHIEFS, WARRIORS & LEADERS

FAMOUS AMERICAN INDIAN ATHLETES


AMERICAN TRIBAL SOVEREIGNTY GUIDE


MISSION INDIAN FEDERATION
+++++++
WHO PRODUCED THIS BLOG?


Ernie C. Salgado Jr.
Tribal: Luiseño
Reservation: Soboba Indian Reservation
EDITOR: The Indian Reporter www.theindianreporter.com
Founder/CEO CALIE: www.californiaindianeducation.org
Web Site: www.apapas.com
CONTACT
RESUME/BIOGRAPHY
PUBLISHED ARTICLES